NYC Truck Accidents Pose Daily Threat to Everyone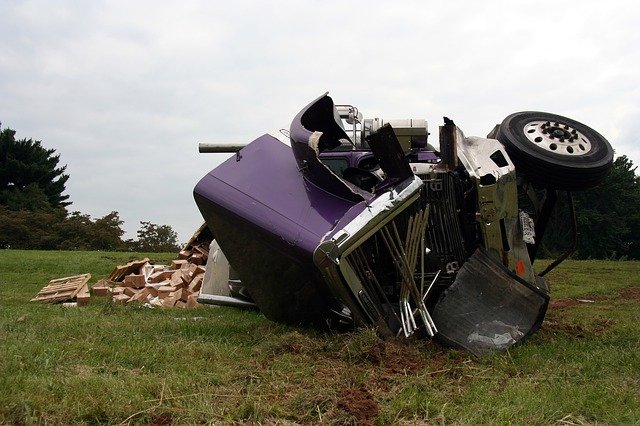 Every year, New Yorkers witness far too many serious and deadly truck accidents. While some are due to speeding, others are the result of drunk or distracted driving. When victims do survive, they often wind up living greatly compromised lives.
During 2018, many truck accidents occurred on Brooklyn streets and freeways. Here's a closer look at three crashes that clearly indicate the types of injuries often suffered. General safety tips are then set forth, indicating the best ways to drive near trucks.
Ford Pickup Slams Into Another Vehicle – Causing a Six-Car Crash
While traveling toward Brooklyn during rush hour, a Ford truck crashed into a Nissan, causing it to then struck a median. At that point, the truck then hit a third vehicle, slamming it into a concrete barrier – causing it to burst into flames. All those events then led to three other cars being rear-ended.
After being pulled out of his Volkswagen, the driver of the second vehicle was pronounced dead at the scene of the crash. Before this Brooklyn Bridge incident finally ended, several vehicles caught on fire. After the blaze had finally been put out around 8 AM, tall plumes of dark smoke could still be seen for miles.
At least sixty fire department and emergency personnel rushed to the scene, quickly doing all they could to minimize injuries and save lives. Besides the Volkswagen driver who perished, at least six other people suffered minor injuries. All the Brooklyn Bridge lanes could not be reopened until 1 PM that same afternoon.
Sanitation Truck Driver Hits and Kills a Pedestrian
Early one morning that same year, a sanitation truck driver traveling in the wrong direction on a Brooklyn street hit and killed a 37-year-old pedestrian. Surveillance video captured the accident, indicating that after the driver initially stopped – he then kept driving forward, before reversing his direction. At that point, the police arrived and arrested the truck driver for multiple traffic and vehicle violations.
Shortly thereafter, the sanitation department stated that this driver (who had worked for the city for over a decade) was being suspended until the complete accident investigation could be completed. A witness who saw the entire accident unfold was very alarmed, noting that it happened right near a school.
A Mack Garbage Truck Hits Nine Cars Before Stopping on a Sidewalk
Later on in 2018, an employee of Viking Sanitation, a private garbage collection company, apparently drove drunk or under the influence of drugs before slamming into nine vehicles. The driver could be seen on video jumping out of his vehicle before walking away. However, when the police arrived, the driver of this 32-ton Mack truck could be seen standing next to his truck with the engine still running.
When authorities discovered that this same driver had already undergone four misdemeanor arrests, they decided to charge him with a new reckless driving violation. Prosecutors demanded that he post $7,500 as bail.
Sadly, these types of truck accidents are far too common. Between 2010 and 2017, city data reveals that private trash and garbage truck carriers killed 43 New Yorkers.
General Safety Tips for Driving Near Trucks
• Yield the right of way whenever possible. This is crucial since trucks often weigh far more than the average passenger car;
• Avoid tailgating and never try to pass a large truck unless you have excellent visibility ahead — and can clearly see all around your vehicle;
• When a truck is trying to pass you, never increase your vehicle's speed. If necessary, pull over further to the right to avoid being hit;
• Remember that most trucks cause rather large wind gusts to "kick up" when they drive near you. Always be sure keep both hands on the steering wheel to help you stay in your lane;
• When trying to pass a truck, keep in mind that they have multiple blind spots. Be sure the driver sees you before making your final move;
• Always allow trucks ample room when they are making turns at intersections;
• When it's raining or the roads are slick, remember that trucks may not be able to stop as quickly as on dry roads;
• Slow down when trucks are driving near you when road construction projects are underway;
• Keep your distance when passing by trucks parked on the road. Trucks are hit four times more often while parked by the side of highways and other roads than other vehicles.
If you or a loved one have been seriously injured in a truck accident, call a New York City truck accident attorney today. Let us help you recover the compensation that you deserve.