19 Injured in Queens Subway Train Accident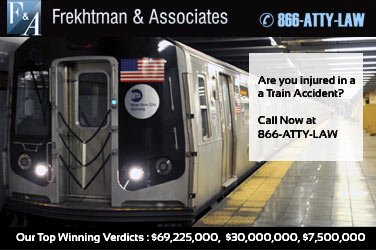 Queens, NEW YORK Fri May 3, 2014 11:00am EDT – In Queens, a subway train with 1,000 passengers derailed while traveling inside a tunnel causing injuries to a number of commuters. Fifteen people were treated and the scene of the accident and four passengers were taken to local area hospitals.
The train accident happened on the manhattan bound "F" train when six of eight cars derailed shortly after 10:30 a.m. when the train had passed the Woodside station at 65th Street in Queens.
Passengers described the accident saying the train began to tilt and shake with sparks emanating from the side of the train. After the train came to a stop, it had filled with smoke from the sparks in what commuters described as a horrifying ordeal. Although six of the middle cars went off the tracks, they luckily remained upright. Investigators did not know the reason for the accident as of yet but some passengers described the speed of the express train as "very fast" just prior to the accident in an area where the speed limit is 35 m.p.h. Instead of slowing down, the train started to bounce before derailing.
Fire fighters and other rescue personnel took about one hour to evacuate all passengers. This train accident comes just a few months after a Metro North train derailment in the Bronx earlier this year. Subway train car derailments in New York City are rare. Nevertheless, if the operator failed to slow down and excessive speed was a factor in the derailment, the operator and owner of the subway train may be found negligent. Negligence is the failure to use reasonable or ordinary care.
The time to file a claim against the New York City Transit Authority which operates the NYC subway system is ninety (90) days from the date of incident. Anyone injured should contact a personal injury lawyer immediately to protect their rights.
Frekhtman & Associates is a personal injury law firm specializing in train accident cases. We offer free consultations to anyone injured in an accident and handle the legal case on a contingency basis which means we only get paid if we recover money for our clients. Our website is https://866attylaw.com and our phone number is (866) ATTY LAW. We handle train accident as well as other injury matters in Queens, Brooklyn, Bronx, Manhattan, and surrounding New York areas.