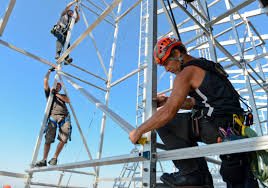 A construction accident in downtown Brooklyn took the life of a worker on Monday, October 11 explains a New York City construction accident lawyer. According to police, the fatal event occurred at approximately 1:20 p.m. at 61 Bond Street, which is between State Street and Schermerhorn Street.
Part Reportedly Snaps
The New York Post reported that the unidentified man was operating pile driving machinery at the time of the accident. An open complaint featured on the Department of Buildings website suggested that a machine shackle snapped. The broken part reportedly struck the worker in the head, knocking him out. He was later pronounced dead at the scene.
The Post quotes a security guard working at the site as saying the machinery the man was working with malfunctioned in some way.
OSHA to Investigate
When a worker dies on the job, the U.S. Occupational Safety and Health Administration (OSHA) automatically investigates. Survivors often receive benefits as provided for under the state's worker's compensation laws. Although every accident is unique, third parties may face litigation when it is reasonable to claim that their negligent conduct contributed to the fatality. As a result, investigators sometimes look at the role, if any, a general contractor, equipment manufacturer and/or maintenance provider may have played in the accident.
Survivors may seek compensation for the victim's pain and suffering as well as loss of companionship and burial expenses.
If you or a family member is a victim in a construction accident, it is possible to review the matter from a legal perspective with a construction accident lawyer. We provide this consultation at no cost to you. To learn more, please contact us.