Medical Tests Indicate a Link Between Elmiron & Eye Damage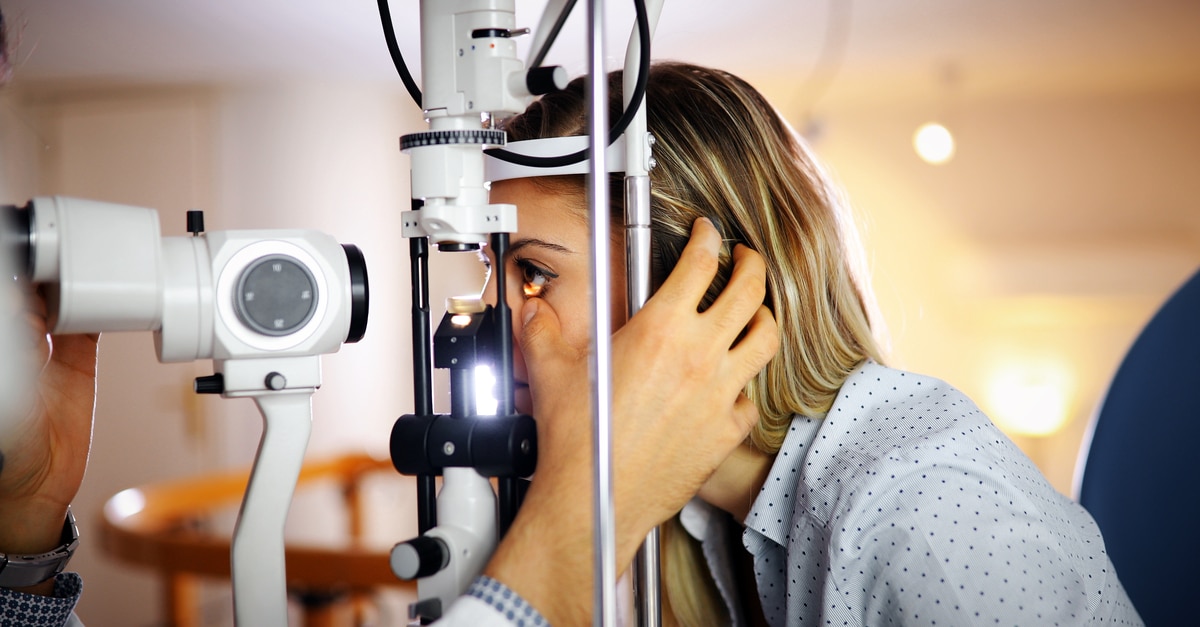 During recent years, doctors and medical researchers have discovered a connection between taking the drug Elmiron and developing serious eye conditions. In fact, specific eye tests can reveal signs of this drug's side effects.
Had this connection not been discovered, some experts believe new eye patients might have been diagnosed with macular degeneration (or other eye diseases) without ever being told that the Elmiron drug had played a role in causing their vision problems.
Here's a brief overview of the problems being reported about taking Elmiron. After a few useful terms and definitions are set forth concerning the human eye, there's also a brief list indicating why Elmiron has been prescribed over the years. This article also references the types of eye problems that some doctors and patients believe are directly attributable to this drug.
Key terms and definitions involving the human eye and vision disorders discussed here
The macula portion of the eye. This is found in the center of the retina and it affects the most sensitive aspects of a person's vision. When the macula is damaged in any significant way, the patient can suffer severe eye disorders and may even become blind.
This term is used to describe a pathological eye condition that involves the retina's central portion called the macula. There are three main types of maculopathies and they are set forth and described later in this article.
Pigmentary maculopathy of unknown origin – or etiology. This refers to an eye disease involving the macula that cannot be traced to a known cause. This phrase was more commonly used in older publications before more was known about how Elmiron has been negatively affecting people's vision.
What medical conditions have prompted doctors to prescribe Elmiron over the years?
Pentosan polysulfate sodium (PPS), the generic name for this drug, has been prescribed for the following reasons.
Bladder pain or discomfort. Doctors often call this condition interstitial cystitis (or painful bladder syndrome). Unaware of the exact properties of Elmiron, some patients have said that while taking this drug, they thought it helped diminish their pain by providing some type of added coating to their inner bladder walls. The Food and Drug Administration (FDA) first approved the prescribing of Elmiron for bladder pain back in 1996.
Osteoarthritis (in both humans and dogs).
Prevention of blood clots. Long ago, Elmiron was prescribed as an anticoagulant.
Which specific eye problem are doctors and patients linking to Elmiron?
The main condition that Elmiron can cause is called "pigmentary maculopathy." The November 2018 Ophthalmology article discussing this eye problem is entitled, "Pigmentary Maculopathy Associated with Chronic Exposure to Pentosan Polysulfate Sodium." Among other facts, this article's abstract states that those who took part in this eye study were all close to age sixty and had been diagnosed with IC (interstitial cystitis).
The authors Pearce, Chen and Jain stated in the abstract's "conclusion" that the patients' chronic usage of PPS had created a new type of maculopathy that might have been avoided by not taking the drug. The patients involved described various reading difficulties and problems adjusting to different lighting situations. More recent articles published in both 2019 and 2020 have referenced this 2018 study.
How some general types of "pigmentary maculopathy" may look or appear
There are three main types of maculopathies that are based on origin or appearance.
DHRD or "Doyne Honeycomb Retinal Dystrophy." This is an inherited form of maculopathy that can cause pale spots to form in the macula of the eye. They can grow into the shape of a honeycomb.
Macular degeneration, age-related. This is a very common form of macular disease that can take many years to progress or form. It often begins by creating cloudy vision in a patient's central vision field.
"Cellophane" maculopathy. Some healthcare providers casually refer to this condition as "macular pucker." It's caused by clear or transparent scar tissue forming over the central section of the retina – the area that controls visual acuity, sensitivity to light and other elements.
Other pertinent data about the pigmentary maculopathy caused by Elmiron
Between the years of 1997 and 2019, one hundred (100) cases involving patients who took Elmiron and suffered eye disorders were reported to the Food and Drug Administration Adverse Event Reporting System (FAERS). Out of those 100 cases, 22 referenced forms of maculopathy and at least eight (8) were considered serious.
Common eye symptoms & side effects associated with taking the drug Elmiron
Deposits of vitelliform. These round, yellow lesions can appear under the macula. Doctors recognize them as part of the adult pattern of macular dystrophy.
Dark spots on the retina that are highly pigmented. An ophthalmologist or other eyecare professionals can see these during eye exams.
Parafoveal pigmented eye deposits. Some people lose their vision because they suffer harm to the small blood vessels and capillaries that surround the macula.
Atrophy of the retinal pigment epithelium. This is a reference to macular degeneration. It involves the wearing out of an eye's retinal pigment and is often associated with aging.
Hair loss or alopecia
Some skin rashes
GERD or gastroesophageal reflux
Headaches
Sleep disorders
Unusual bruising
Diarrhea
Unfortunately, most Elmiron and Pentosan prescriptions in the past didn't provide patients with any notice about possible side effects or risks.
Dosage amounts of Elmiron might affect how much eye damage patients suffer
While many doctors have often prescribed a daily dose of 300 mg to patients – often 100 mg taken three times a day — others have prescribed far more. In fact, some physicians have prescribed between 1,000 and 1,500 mg a day. Obviously, serious drug side effects might be more likely to develop in patients told to take much larger doses of Elmiron.
Over time, the retinal cells in a patient's eyes can absorb toxic substances from this drug. While at least one study did include many older Americans, Dr. Jain of the Emory School of Medicine has said that at least one patient who had been prescribed Elmiron began experiencing significant eye problems by the age of 30.
If you've suffered serious eye damage that may be linked to taking the drug Elmiron, you need to immediately contact our New York City eye damage law firm. We'll carefully investigate the facts of your case and then fight hard to win the maximum compensation available.
We want every client to receive generous damages to cover all their pain and suffering, lost wages, medical expenses and other losses, contact us 24/7 by clicking here.