New York City Extravasation Injury Lawyers
Individuals who are treated & released or admitted to hospitals often require intravenous (IV) lines which drip medicines into a patient's bloodstream. Sometimes due to medical negligence on the part of the practitioner who inserts the IV line the line does not go into the vein or falls out of the vein. This allows the medicine to flow into the soft tissues of the arm, elbow, and surrounding areas. Depending on the type of medicine, this can cause severe burns, disfigurement, and painful scarring.
Known as extravasation or infiltration, this condition should be immediately identified and fixed. This will prevent damage to the soft tissues, muscles, nerves, and ligaments.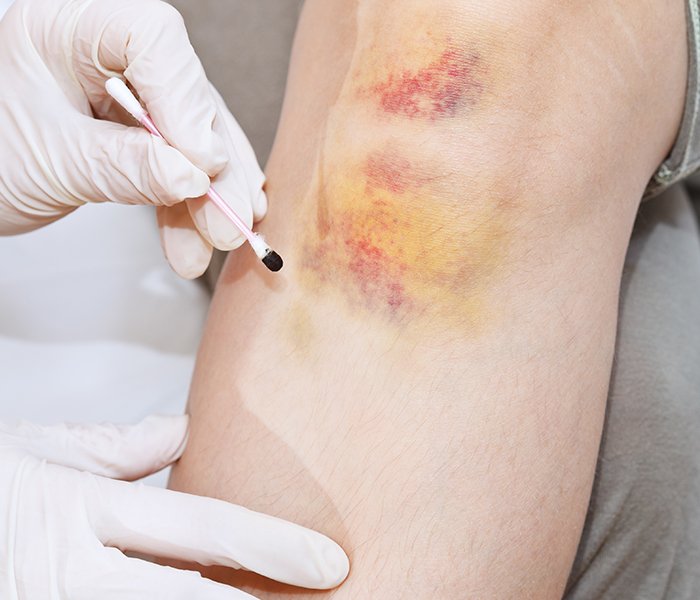 Infiltration Injuries
burns
scarring
disfigurement
muscle damage
nerve damage
blisters
may require amputation
compartment syndrome
may require plastic surgery and or debridement
F&A Injury Law Firm represented an individual who developed severe bilateral scarring to her elbows and upper arms as a result of IV infiltration when potassium chloride medication dripped into her soft tissues instead of the vein. A settlement of $1,500,000.00 was reached against the hospital and nurses.
---
See: https://newyork.cbslocal.com/2010/11/11/exclusive-woman-sues-nyc-hospital-for-scarring-mistake/
With IV infiltration, it is of utmost importance and urgency that the nurses discovery and remedy the condition as soon as possible. The leakage of medications can cause irreparable damage. Further, the patient is not receiving the needed IV medications to the bloodstream via the veins which can cause other medical complications.
If you or a loved one suspect an IV infiltration injury with extravasation contact the medical malpractice lawyers at the F&A injury law firm at (212) 222-1111.
no related posts found