Bus Accident Lawyers Discuss Two Bus-truck Crashes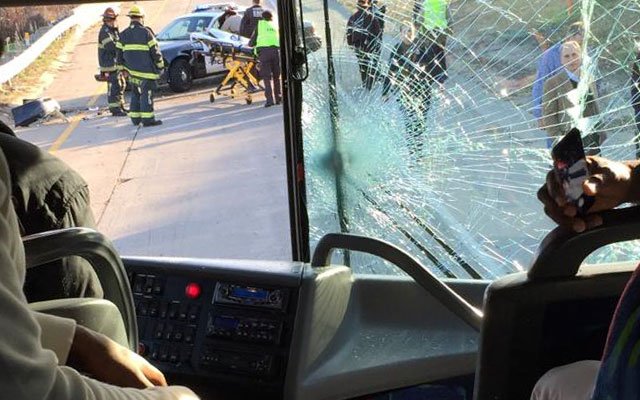 Multiple injuries often occur when two kinds of large commercial vehicles – buses and trucks – are in traffic accidents explain the bus accident lawyers at the Frekhtman & Associates injury law firm. These are typically major accidents, because buses often carry dozens of passengers, and large trucks frequently wreak havoc due to their sheer size and weight. When a truck and a bus are in the same accident, the results are often particularly serious.
Numerous bus passengers were injured in two separate bus-truck accidents in the region as the Memorial Day holiday got underway. Together, these two crashes injured more than 50 people.
Children Hurt in Queens
A box truck and a school bus were in an accident mid-morning on Friday, May 26, according to NBC 4 News. The accident occurred where Rockaway and Brookville intersect in Jamaica, Queens, not far from JFK Airport.
Local police said that 25 children were on the bus at the time of the crash, and 17 of them sustained injuries. According to amNewYork, emergency personnel transported more than a dozen of the injured to St. John's Episcopal Hospital. Although the injuries were all believed to be minor, involvement in a bus accident may be particularly difficult for some young people. An NYPD spokesperson said that neither the bus driver nor the truck driver sustained injuries. Both reportedly spoke with investigators at the scene, and neither was arrested.
Bus and Semi Collide
In a New Jersey crash, a semi tractor-trailer and a tour bus collided. This accident with injuries happened shortly after midnight on Friday, May 26. Authorities say 50 passengers were on a bus travelling in the southbound lanes of the New Jersey Turnpike. It was not immediately known what caused the accident, but a local ABC News affiliate reported that some passengers confronted the truck driver after the crash.
After the accident, injured passengers went to area hospitals, and those that escaped injury were taken to the Woolwich Township Municipal Building. Emergency personnel took some of the injured to Cooper University Hospital in Camden, New Jersey, while other went to Inspira Medical Center in Woodbury, New Jersey. Some serious although unspecified injuries were reported. Ultimately, 34 of the 50 passengers ended up at local hospitals.
A Brooklyn woman told a reporter she heard a boom after the driver tried to regain control of the bus. A male passenger said he ended up on his back after the bus flipped over.
One female passenger from New York City told ABC 6 News of difficulties allegedly encountered when she tried to work with the bus company to get back home. A replacement bus reportedly arrived Friday afternoon, more than 12 hours after the crash. Some passengers who had been hospitalized were allegedly separated from personal belongings that were on the bus at the time of the crash.
Investigators interviewed the truck driver at the scene. He was not injured.
When individuals sustain injuries in crashes involving commercial vehicles, it is important to identify all parties that may be liable, including owners and/or lessees of semi trucks and trailers. When it is reasonable to assert that negligent conduct contributed to injuries, it is possible to seek compensation in the state's civil courts. Those that are hurt often seek monetary damages for certain medical expenses, pain, suffering, possible lost wages, potential rehabilitation costs and permanent injury, if applicable. Most cases are settled without a trial.
If you or a loved one is hurt in a bus, truck or other accident, our firm makes it possible for you to speak with a personal injury at no cost to you. We fight hard to get our clients all the compensation they deserve under all applicable laws. Please contact us ask your questions or to schedule a complimentary consultation.