New York City Apartment Ceiling Collapse Attorney
A common type of apartment building accident is a ceiling collapse. What started as a peeling or cracked ceiling may one day lead to a portion of the ceiling collapsing and injuring someone. Even though the tenant may have complained to his super or building management, these types of problems are not always fixed timely.
Ceiling collapse injuries include those to the head and neck or other portions of the body struck by falling plaster and debris from the collapse. Additionally, the shock of a collapse may lead an individual to slip, trip, and or fall in the moments immediately after the collapse. Some ceiling defects leak water down from the cracked portion of the ceiling which can cause people to slip and fall.
The New York City ceiling collapse lawyers at Frekhtman & Associates handle all types of apartment building accidents in Manhattan, Brooklyn, the Bronx, Queens, and other NYC areas. A ceiling collapse accident falls under the law of premises liability.
A tenant who is the victim of a leaking, cracked, water-stained, moldy, chipped, sagging, drooping or otherwise defective ceiling in their apartment that later collapses may have a strong lawsuit against the landlord and or management company that maintained the property.
The injured tenant must prove notice. This means that the defendant knew about the dangerous condition whether it is a ceiling leak, crack, sagging of the plaster, and other similar defects.
What To Do After a Ceiling Collapse Occurs?
If you or someone you know has been injured as a result of a ceiling collapse, it is important to remember the following:
Take pictures of the ceiling immediately after the collapse to show the damage.
If you feel pain, go to the hospital. The Ambulance and sometimes the FDNY Fire Department respond to ceiling collapse calls.
If you complained about a leak, cracked ceiling, prior collapse, or similar complaint, find the letters, emails, or other proof of the prior complaints. Prior notice to the landlord or management of the building is a legal requirement. If you only complained over the phone, jot down the dates when you complained and who you spoke to.
If a piece of concrete or sheetrock fell from the ceiling, preserve that as evidence.
Contact a New York personal injury lawyer immediately. A lawyer can conduct a full investigation quickly, start the claim with the insurance company, recommend qualified doctors to treat your injuries, and handle the case leading to a successful resolution.
Providing Notice In Advanced Of a Potential Ceiling Collapse
If a tenant suspects that there might be damage or ongoing damage, usually from leaking water, to a ceiling, the tenant can prove notice to a landlord in a number of ways:
Actual Notice is when someone complains to the superintendent, management, or landlord of the building. A complaint can be verbal or in writing.
Constructive Notice is when a defective condition such as a leak in the ceiling exists for a prolonged time period such that the landlord should have found it and fixed it. Landlords are required to do periodic apartment inspections so the checklists, notes, and reports from these inspections are helpful in identifying if they saw the defect at the time they inspected.
Caused & Created is when the landlord or management causes the condition in question. For example, if steam pipes are emanating steam and moisture into an attic with no ventilation this can rot the attic floor and ceiling of the apartment directly below the attic causing a ceiling collapse.
Types of Ceiling Collapse Accidents And Evidence To Give To Your Lawyer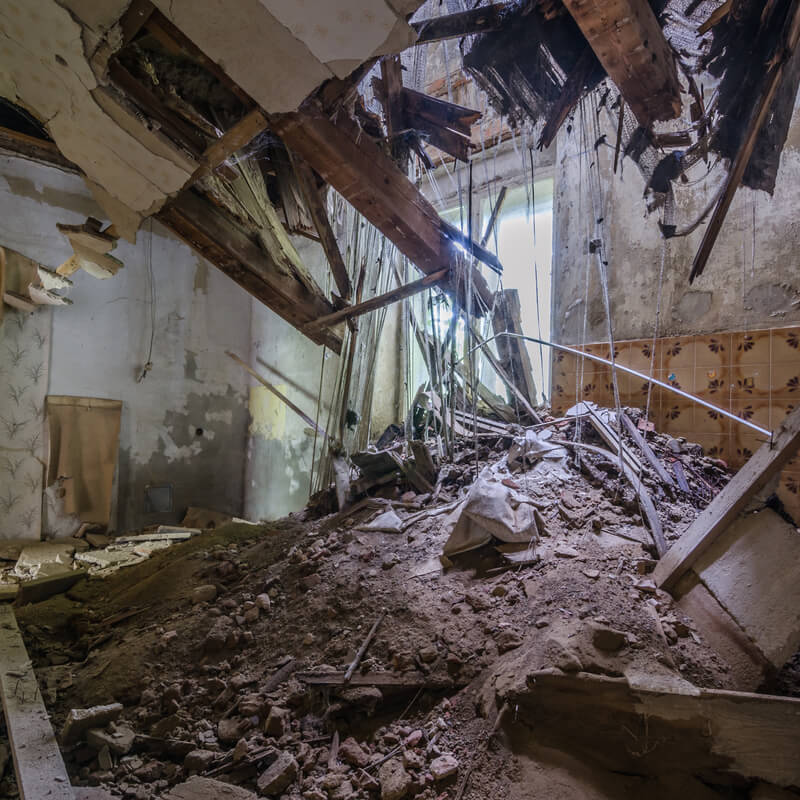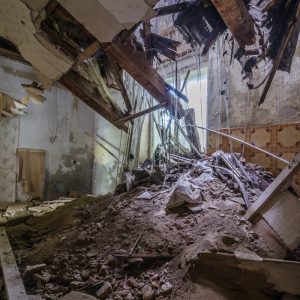 You may need a ceiling collapse accident lawyer when a ceiling collapses in a place where it's not your fault. While it may sound rare to be injured from a collapsing ceiling, it's not quite as rare as you think if you live in very old apartments or work in old buildings.
What's the most common reason for this ceiling collapses? And what evidence should you give your personal injury lawyer if you discover that you have a serious injury due to a chunk of ceiling hitting you?
Ceiling Collapses from Neglected Plumbing Issues
When you live in a multi-story apartment that's been around for many decades, plumbing issues in units above you can potentially weaken your ceiling. This can happen in any apartment, regardless of what you pay in rent. No matter the apartment's quality, if the landlord hasn't repaired that plumbing issue upstairs, it could instigate a chunk of ceiling possibly falling on you while sleeping or during daytime activity.
The same issue can happen in old buildings where you work. You're even more vulnerable in that setting if you're sitting at a desk most of the day. But what kind of injuries typically happen when a ceiling collapses on you?
Moderate to Severe Head or Neck Injuries
Depending on the severity of the ceiling collapse, you could end up with very serious injuries that affect the rest of your life. The worst-case scenario is an entire ceiling falling and hitting you on the head, causing severe injury to the brain. This isn't to say that a small piece of the ceiling falling on you couldn't cause a moderate head, neck, or shoulder injury that's likely to rack up tremendous medical bills.
Taking Legal Action
You'll generally have a solid case against a landlord's negligence when injuries like this occur. However, it's also a good idea to have other evidence available to present to your lawyer, because the landlord or management of the structure will likely dispute and fight any charges. The first and foremost piece of evidence is a photograph of the ceiling collapse. If you're able to, grab your digital camera and take a picture soon after the collapse occurs.
A truly powerful piece of evidence is a prior request you made in writing for the landlord to fix the plumbing issue. Warnings are usually present when a ceiling is about to collapse, particularly when consistent wet spots are seen on your ceiling for weeks or months at a time. If your landlord ignored your written requests for repair, your case is very strong.
How NYC Ceiling Collapse Lawyers Frekhtman & Associates Helps Win Your Case
One important investigative tool Frekhtman & Associates attorneys use shortly after the firm is retained to represent a client injured in a ceiling collapse accident is to do a Freedom of Information Law ("FOIL") search. Many searches can be done online. One great resource can be found at the New York City Department of Housing Preservation search.
This will show prior complaints made by tenants of apartment buildings with the type of complaint, the Administrative Code, Building Code, or other ordinance that was violated, the location where the violation was found, and other useful information.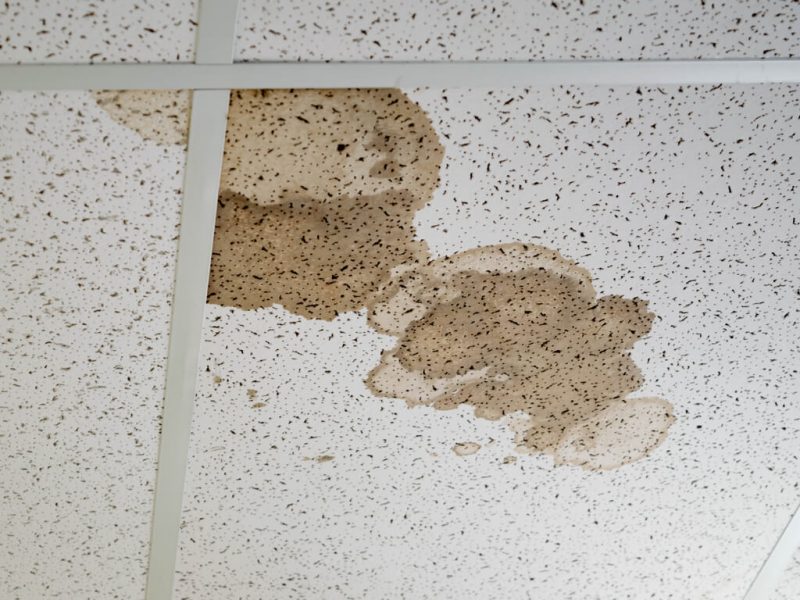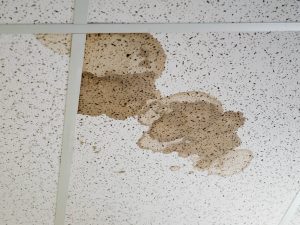 Recent case law has held that a defendant who has actual knowledge of a particular ongoing and recurring hazardous condition may be charged with constructive notice of each specific reoccurrence of that condition" (Willis v. Galileo Cortlandt, LLC, 106 A.D.3d 730, 731, 964 N.Y.S.2d 576; see Amendola v. City of New York, 89 A.D.3d 775, 775–776, 932 N.Y.S.2d 172; Milano v. Staten Is. Univ. Hosp., 73 A.D.3d 1141, 1142, 903 N.Y.S.2d 78; 510 Weisenthal v. Pickman, 153 A.D.2d 849, 851, 545 N.Y.S.2d 369). So for example, if a landlord is actually told about a leaking bathroom ceiling but just does some patchwork without repairing the underlying problem the landlord will be held to have constructive notice each time that ceiling collapses. Many clients have reported multiple collapses of the same portion of their ceiling due to improper and incomplete repair work.
Mere notice of a general or unrelated condition, however, is insufficient to constitute constructive notice of the specific condition that caused the plaintiff's injuries (see Wienges v. Newburgh Mall, LLC, 94 A.D.3d 1110, 1110–1111, 942 N.Y.S.2d 612; Ellisy v. Eklecco, LLC, 56 A.D.3d at 518, 868 N.Y.S.2d 82; Anderson v. Central Val. Realty Co., 300 A.D.2d 422, 423, 751 N.Y.S.2d 586). See Toussaint v Ocean Ave. Apt. Assoc., LLC, 144 AD3d 664, 665 [2d Dept 2016] So for example if a bedroom ceiling collapse caused a client's injuries, that client could not point to a general or unrelated defect on the property.  
Duties Of The Landlord & Building Management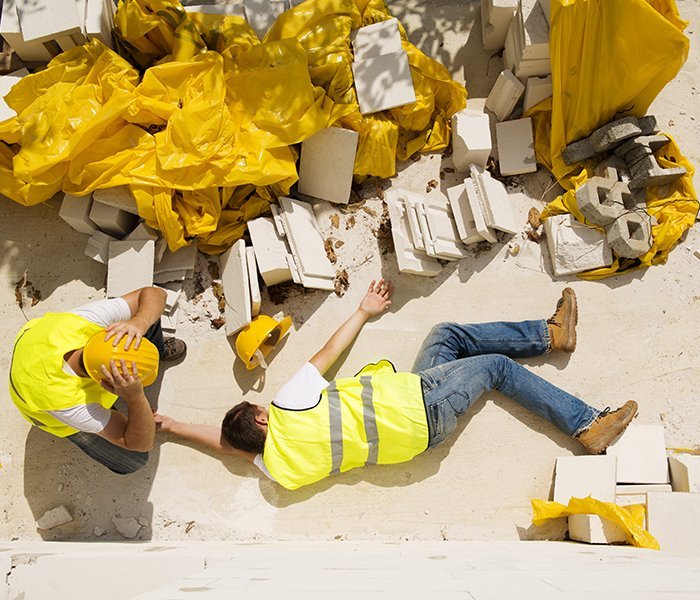 A landlord and or management of a building has a duty to ensure that his or her premises are maintained in a safe manner such that those living in the building are not injured by a ceiling collapse. Typical negligence of a landlord may include:
Failure to remove snow or ice from a roof
Allowing a ceiling to become too heavy without inspecting the problem despite complaints
Failing to inspect, repair, or stop a leak which can be a persistent leak leading to water filling sheetrock and other construction materials making them so heavy they collapse
Failure to repair structural damage to a ceiling
Failure to repair cracks in the ceiling can open up leading to partial collapses
Failure to fix leaks from the ceiling or performing inadequate repairs
Failing to properly fix the problem by painting over the problem rather than repairing the cause
Frekhtman & Associates is an injury law firm that investigates ceiling collapse cases.
---
We Have Experience Winning NYC Ceiling Collapse Cases
In 2021, Frekhtman & Associates settled a ceiling collapse case at mediation. A lady was at home watching television when her living room ceiling fell onto her head, neck, and shoulders. She injured her back and required pain management procedures including a percutaneous discectomy surgery. The pain persisted and she later required spinal fusion surgery. The firm worked with safety engineering experts to help prove the ceiling collapse was caused by poor maintenance of the apartment structure both inside the client's apartment as well as the apartment above. The firm was successful in negotiating a $1,700,000.00 settlement.
Recently, the firm was retained to represent the Jeter family in Crown Heights Brooklyn who suffered a horrible and complete ceiling collapse of their living room ceiling followed by a total collapse of their bedroom ceiling. This is a classic example of the landlord, the New York City Housing Authority (known as "NYCHA"), having notice of prior problems including leaks and cracks. Our client explains in a video that he complained about the problems but the landlord simply did cosmetic patch jobs without fixing the ceiling.
Ceiling Collapse Lawyer Are Here To Help You With The Maximum Compensation You Deserve
Dealing with a caved-in ceiling is not a pleasant experience. In some cases, you may need to vacate the apartment while repairs are being made. This creates stress and even loss of work time while you and your belongings are moved to another location.
If a ceiling collapse occurs while someone is underneath, it can cause any number of injuries including severe head, neck, and back injuries.
Our legal team will keep on the offensive until we make sure you have been fully compensated for your injuries and losses. We will go to trial and take on liable parties and their insurance carriers so that your rights are protected. We will take care of every legal detail and make sure you achieve the highest compensation possible for your loss. You should not be expected to stress over medical bills and insurance claims while recovering from injuries. Let our team of NYC expert lawyers work for you to bring you a fair settlement, and you will have all the time you need to get back on your feet.
We hire experts including engineers to look at the cause of the ceiling collapse and testify at trial about building code violations and the negligence of the landlord and management. We handle these cases free of charge and we pay all expenses involved. If we win your case, our legal fee is a small percentage of the amount we win for you. If we do not win money for you, we charge you nothing. If you or a loved one was injured in a ceiling collapse or other apartment building accident in any of the five boroughs, including Brooklyn and the Bronx, call us for a free consultation.