Workers Fall From Scaffold Into Wet Concrete After Building Collapse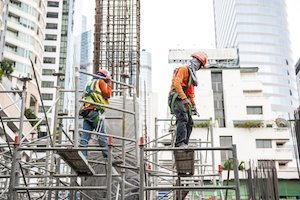 Sometimes, construction workers face the harrowing prospect of a building collapse in the course of their work. One of the dangers of construction work is a fall from a ladder or scaffold. Innocent bystanders may be victims as well. Depending upon the circumstances, workers comp and/or personal injury statutes may apply.
Building Collapse Sends Workers into Wet Concrete
Sometimes, new construction leads to collapses due to improper bracing, improper design or faulty construction techniques. On Friday, May 26, a building under construction partially collapsed in Oakland, California. A fire battalion chief said the collapse happened at around 9:30 a.m at 3093 Broadway, north of downtown Oakland and south of Interstate 580.
As the structure collapsed, approximately 20 workers on scaffolding fell a distance of approximately 10 feet to 15 feet. Some of the workers fell into concrete being poured to form the second level of a parking garage. Firefighters and fellow construction workers positioned wood boards to avoid getting stuck in the concrete themselves. Rescuers frantically worked to free those knee-deep in concrete.
According to SFGate, emergency personnel transported about 12 construction workers to a local hospital. Fortunately, no serious injuries were reported, although there were reports of back injuries and assorted bruises. However, witnesses said they heard a loud boom and screaming as a portion of the building collapsed. Later, some witnesses observed workers hugging each other.
Numbers
The seven-level structure is part of a large housing project which will combine 24,000 sq-ft of retail space and 435 apartments. Also, corner of the structure will feature a historic Chevrolet showroom which has been preserved. In addition, spaces for 472 vehicles and 266 bicycles at the project expected to open in 2018.
After the collapse, OSHA inspectors and a municipal building engineer arrived to investigate. SFGate reported that the concrete subcontractor in the project received three OSHA citations for minor violations over the past half-decade.
NYC Wall Collapse
To avoid collapsing walls and buildings, site excavations may require proper shoring of adjacent structures. In one fatal construction accident in New York City, a wall collapsed when it was not shored up. On September 3, 2015, the New York Post reported that a cinder block wall collapsed on workers at a construction site in Bedford-Stuyvesant. Masonry and other materials fell on three workers. Consequently, one of them, a 19-year-old, was rushed to Brooklyn Hospital, but he did not survive. However, the other two workers sustained fractured vertebrae and other broken bones in the accident. In addition, one reportedly has trouble walking, and the other cannot sustain physical activity.
According to ABC 7 News, in May 2017, prosecutors filed multiple charges against the owner of a company involved in the project, including second-degree manslaughter and criminally negligent homicide. Prosecutors allege that the accused refused repeated requests from the workers to provide materials to shore up the wall as the excavation proceeded. They also allege that the accused ordered workers to excavate the rear of the lot without a permit.
Relevance
Injured workers are typically covered by provisions of a state's worker's comp laws which provide for weekly benefits, payment of medical expenses and other benefits. However, when a non-employer is negligent in an accident, it is sometimes possible to seek compensation under a state's personal injury laws as well. Even more, workers and injured bystanders may qualify for monetary damages related to medical expenses, pain, suffering and lost wages. Sometimes, individuals may receive compensation for long-term rehabilitation costs, prescription medications and diminished capacity.
Workers fall from scaffold
If you or a family member is a victim of a building collapse or other accident, our firm makes it possible for you to speak with an attorney about the details at no cost to you. Adding on, we work hard to ensure that our clients receive maximum compensation under all relevant laws. To learn more, or to schedule a free consultation, please contact us.