New York City is enjoying another building boom. During 2018 and 2019, some experts predict that annual construction spending will top $50 billion. The borough of Queens regularly secures a large percentage of the city's annual construction permits. While all this work lasts, as many as 140,000 construction workers may be employed throughout NYC's five boroughs.
With the rise of development in Queens, construction accidents are also on the rise with construction workers' safety in danger. A construction accident may involve a fall from a ladder or scaffold. A worker may also be struck by a falling object which is part of the construction job.  During recent years, Queens construction sites have stayed busy erecting multiple skyscrapers and handling demolition projects and building alterations.
Various Types of Construction Equipment Pose Serious Risks of Injuries
Potential dangers always exist since construction projects require many different types of heavy earth-moving equipment including excavators, bulldozers, tractors, loaders, trenchers, graders, scrapers and compactors. And safety guidelines must also be closely followed when explosives are being used for many demolition projects.
In addition, dump trucks are often required to remove excess earth and rocks from building sites. Each day, cranes must also be regularly brought in to help move critical building materials like lumber and steel beams to different locations – and to lift heavy workers' tools and large pieces of equipment to where they belong.  Forklifts are also needed to carefully move smaller loads around work sites. All these activities create numerous safety hazards for even highly skilled construction workers.
The following material looks at several recent Queens construction accidents and notes the most common types of injuries annually suffered by construction workers. Additional data looks at the most frequent OSHA (Occupational Safety and Health Administration) construction safety violations. Finally, various suggestions for improving construction site safety are also reviewed.
Recent Queens Construction Accidents
A worker is crushed to death in a forklift accident. In March 2018, a 34-year-old man from Ecuador was killed while helping another worker move a large window. Witnesses said that the window fell on top of the deceased while he was working. The accident occurred at the site where the Chetrit Group is building a luxury high-rise. City records indicate that at least one stop-work order was issued to that site during the past year. Forklift safety practices remain critical concerns on all construction work sites;
Back in November of 2016 two other Queens construction workers were killed. This apartment complex accident occurred in the Briarwood neighborhood. A crane operator was helping a worker move a steel beam weighing 6500 pounds when the beam shifted, striking the crane's cab – causing the death of the operator. The beam then fell on top of a worker on the ground below, killing him. When the accident took place, some witnesses thought that high winds may have played a role. The crane had just passed inspection less than six months earlier.
Those two accidents reveal how many workers are regularly injured or killed by heavy falling debris and poorly maneuvered forklifts.
What Are the Construction Industry's "Fatal Four?"
OSHA regularly monitors the number of specific workplace injuries in many industries – including those suffered by construction workers. While staying on top of the numbers for the four most common types of construction site injuries and deaths (see below), government officials also provide construction site inspections and require appropriate training programs in hopes of decreasing worker injuries and deaths.
Stated simply, the "Fatal Four" designation refers to the main types of accidents that annually cause construction worker deaths. They are best described by the following events and activities.
Dangerous falls – these account for roughly 38% of all reported deaths
Being hit and injured by a falling object – these incidents cause roughly 9% of all annual injuries and deaths
Being crushed or otherwise hurt while working between objects – these accidents lead to about 7% of all deaths
Preventable electrocutions – these cause approximately 8% of all fatal construction site accidents
A wide variety of other workplace activities cause all the remaining annual deaths.
Ten of the Most Common Annual OSHA Safety Violations on Construction Sites
Improperly constructing and using scaffolds
Providing inadequate equipment (like harnesses) to prevent or minimize fall injuries
Failing to improve substandard hazard communications
Not providing workers with adequate respiratory protection equipment
Allowing hazardous energy to be managed using improper lockout/tag out procedures
Failing to provide proper training for the use of powered industrial trucks
Using ladders in dangerous ways
Not enforcing safe machine guarding procedures
Allowing wiring and electrical equipment to be handled improperly
Failing to improve dangerous electrical system designs
Given the frequency and severity of these construction site accidents, a higher priority must be placed on ongoing safety training.
Various construction industry groups have recently shared some of the following ideas in hopes of maximizing worker safety.
Key Ways to Decrease Construction Site Injuries & Death
Be proactive and address reported safety concerns as soon as possible. Have at least one or two managerial level employees regularly walking around and observing each worksite daily – looking for safety issues and providing solutions;
Appoint workers with different levels of experience to workplace safety committees. Make sure they know that their suggestions will be acted upon and encourage ongoing meeting attendance. Managerial construction staff should also attend regularly to increase effective problem-solving;
Keep requiring and encouraging additional training. Consider providing extra financial incentives to workers who obtain any training that's beyond what's required to keep their jobs;
Remind workers each day that it's their job to act safely. Be prepared to penalize (and then fire) workers who refuse to abide by all OSHA and other relevant workplace standards;
Encourage workplace inspections. While many managers consider these to be a nuisance and a threat to productivity – savvy construction site owners know that just the opposite is often true;
Employ the best technology available to safeguard all workplace activities. All employers should carefully monitor most major tasks, always looking for better ways to improve worker safety;
Upgrade the quality of all equipment regularly. Safety should never be forfeited to boost profits;
Provide the highest grade of personal protective equipment available. Enforce all safety rules requiring the use of hard hats, proper workplace attire and sturdy boots;
Hire the best supervisory personnel you can afford. Make sure they're willing to offer added training "on the spot" so that safety remains a routine workplace priority;
Never require workers to stay on the job when severe weather is unfolding;
Always welcome reports about workplace dangers. When employers punish workers for reporting their concerns, they not only violate federal laws – they also greatly increase the chances that workers will suffer needless injuries and deaths.
The interplay of a Queens construction accident lawsuit with workers compensation 
Injuries to construction workers on the job will qualify them for worker's compensation insurance benefits. A worker's employer will often have worker's comp coverage which will pay for an injured worker's medical bills and lost wages. However, an injured worker cannot sue his employer directly which is known as the worker's comp bar. In many situations, the worker can sue a third party such as the landlord or owner of the construction site where he was injured. Since the Labor Law puts liability on the owner and the general contractor of a construction site, an injured worker can recover against these defendants.
When someone is injured at a construction site, often the injury is serious and medical care is the most important pressing issue on the worker's mind. At F&A Construction Accident Lawyers, we coordinate our client's medical care with some of the best doctors in the United States in varying specialties including neurology, orthopedics, pain management, and surgery.
Our firm works closely with a client's worker's compensation attorney to confirm the worker's comp case and the third party lawsuit are being correctly built up together.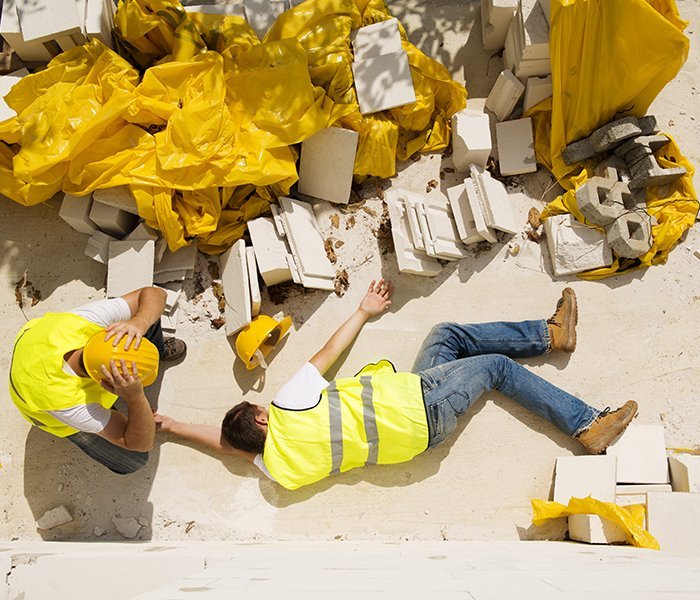 F&A handles all types of construction accident cases including
Crane accidents
Falls from ladders and scaffolds
Trip, Slip and or falls in a passageway due to construction debris or other defect
Falling objects including building materials or tools which strike a worker
Falls from a roof
Falls through holes or hazardous openings in a floor
Cave ins and trench collapses
Electricity accidents including electrical shocks
Demolition accidents
partial wall collapse or building collapse
Accidents involving heavy machinery, nail guns, power tools, or saws
---
If you or someone you know was injured at a construction site, contact the Queens construction accident lawyers at F&A toll free at (866) ATTY LAW. Call our local number (212) 222 – 1111 or fill out the contact form on our website.