New York City Delivery Truck Accident Lawyer Discusses UPS, FedEx, and other Delivery Truck Accidents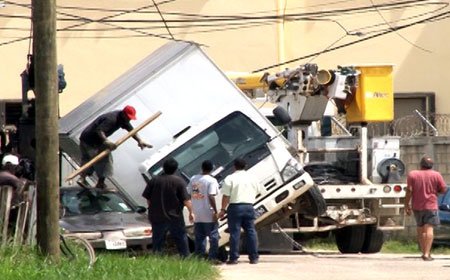 New York City Delivery Truck Accidents
Every day, New York City delivery truck drivers are constantly trying to meet daily deadlines while serving the needs of over eight million residents, countless commuters, and constantly expanding business interests. Yet like everyone else, they must avoid negligently causing accidents just because they're trying to impress their employers by shaving a few minutes off their delivery times explains a New York City delivery truck accident lawyer at the F&A injury law firm in Manhattan.
Since the average delivery truck is much larger than many of today's smaller cars, if you're hit by one – you're likely to be seriously injured. Pedestrians, drivers, and vehicle occupants must keep an eye out for all the different types of delivery trucks that are often speeding around town.
In addition to all the FedEx and UPS delivery trucks, countless others are being driven by:
Furniture movers
Tool vendors
Commercial freight drivers
PODS truck drivers
Food and flower delivery employees
General mail courier staff
Office supply workers – and many others
While deliveries are critical to most of us, all companies have a duty to warn their drivers to honor all traffic regulations designed to prevent serious accidents.
Delivery Truck Accidents Are Often Caused by Ignoring Basic Traffic/Driving Rules
Posted speed limits. There's never a good excuse – even when trying to increase company profits by making additional deliveries – for breaking speed limits designed to protect other drivers and pedestrians;
Running red lights. Too many deadly accidents occur each year because careless delivery drivers are eager to complete their deliveries in record time;
Failing to look behind the vehicle when backing up. Side-mounted and rearview mirrors must be regularly used to avoid hitting innocent pedestrians, cyclists, and other vehicles when trying to fit a large delivery truck into a temporary parking spot;
Engaging in any type of distracted driving – or driving when greatly fatigued — or compromised by alcohol or any drug. Companies must urge their drivers to avoid wearing music headphones/ear buds – or listening to any loud music – since such loud noise can completely drown out the last warning sounds they might hear just before causing a major accident;
Failing to yield to smaller vehicles at intersections or when merging onto freeways. No one has the right to dominate city streets or freeways simply because their vehicles are unusually large or intimidating;
Improperly parking or failing to fully engage the parking brake. Pedestrians and other drivers have a right to expect your vehicle to remain where it is when they first approach it – they are too often injured or killed when an emergency brake isn't used.
Victims often suffer a catastrophic injury due to the unusually large size and weight of most delivery trucks.
First Responders and Emergency Room Staff Often See Major Injuries – and Fatalities
Unlike the damages caused by lighter vehicles, delivery trucks often cause:
Permanent (or temporary) spinal cord injuries. Victims can easily require months or even years of specialized rehabilitative medicine therapies in order to start walking again. Others are left completely paralyzed – forced to use wheelchairs and other devices to move around for the rest of their lives;
Traumatic brain injuries. Victims of major delivery truck accidents may never be able to work again and support themselves – or continue taking care of other family members as they once did prior to being hit.
Ways New York City Can Provide Better Protection Against Delivery Truck Accidents
All New York City residents and workers may want to actively promote more conservative speed limits during daily rush hours for all vehicles – and request greater restrictions on which streets delivery trucks can use on specific days.
Finally, all New York City residents and workers should immediately call 9-1-1 to report dangerous delivery truck drivers – and call the phone number often posted on the back of each company vehicle (which will alert the driver's employer to any reckless driving). If you are seriously injured in a delivery truck accident, after dialing 911, dial # 919 on any New York City cell phone to reach an experienced delivery truck accident lawyer.