New York Tanker Truck Accident Lawyer Explains The Dangers of Tanker Accidents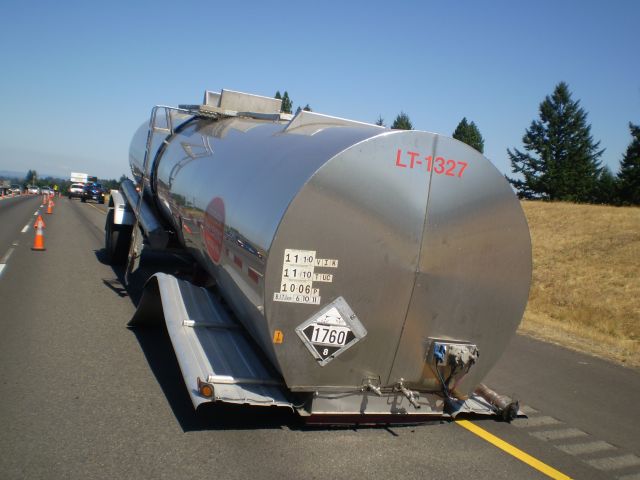 While passenger car occupants always face greater harm when struck by large trucks, safety risks are even higher when it's a tanker truck hauling hazardous or explosive liquids explains a New York tanker truck accident lawyer. Here in the general New York area, tanker truck accidents occur on a regular basis.
In fact, during recent months, an Oswego County road had to be shut down after a serious fuel tanker crash. On another day, Hazmat teams had to respond following an accident in Niagara County when a tanker truck developed a liquid hydrogen leak. Then another incident occurred in nearby Hackensack, New Jersey — leaving two people injured after a tanker truck flipped over on Interstate 80. Police reports indicate that the tanker had flipped over after hitting another vehicle.
Since the average passenger car only weighs about 4,000 pounds and tanker trucks often weigh between 12,000 and 26,000 pounds, fatal injuries often occur when smaller vehicles are hit by these large trucks.
Here's some additional information about the different types of tanker trucks (and their cargo) that regularly pass by all of us on freeways and city streets.
How Tanker Trucks Are Often Described and Categorized
Although some of the most detailed information about tanker trucks is set forth on the International Organization for Standardization (IOS) website, other sources provide helpful data that's a bit easier to understand. For example, tanker trucks are often just straight trucks or semis hauling tanks. If they're hauling dry goods, they may be carrying various types of food grains or dry building materials like sand.
Tanker trucks are also often used to carry liquids, chemicals and gases. Most of us see these trucks filled with gasoline when we stop to pump gas into our cars.
Tanker trucks are also categorized based on their size and approved loads – indicated by terms like heavy duty, medium duty or light duty. They may also be described as Class 8 trucks that can include box trucks and vans or flatbed trucks. Depending on what they're hauling, tanker trucks may be insulated/non-insulated; pressurized or non-pressurized – and even vacuum-sealed.
While these are just some of the terms used to describe tanker trucks, they do provide useful information about how many of these vehicles are often used. They also help us better understand the special threat that these trucks can pose to other motorists based on their more volatile contents.
What Types of Conditions Often Give Rise to Tanker Truck Accidents?
Truckers with commercial driver's licenses know that their personal safety depends on making sure their companies provide routine maintenance to their trucks and equipment. Of course, independent truckers must handle all these responsibilities on their own. Tanker truck drivers also require ongoing training to help them properly handle all the new trucks and equipment they must use. They also need to stay aware of all new federal laws and regulations that directly apply to their profession.
In addition to making sure their trucks are properly maintained and obtaining annual training, tanker truck drivers must also regularly get enough sleep and obey all other FMCSA (Federal Motor Carrier Safety Administration) laws.
Here's a list of some other key factors that increase the chances of a serious tanker truck accident.
Failing to observe all posted speed limits;
Changing lanes without carefully checking blind spots for motorcyclists and passenger vehicles;
Attempting to stop too quickly during wet or icy weather. It can take some tanker trucks 40% longer to stop than most passenger cars;
Trying to navigate turns too quickly – putting themselves and other drivers at risk of serious or deadly injuries due to a possible jackknifing accident;
Failing to drive extra carefully when carrying hazardous or toxic liquids (or chemicals).
All of us must take these safety threats seriously since experts predict that we'll soon be seeing even more tanker trucks out on our roads and freeways.
If you have suffered serious injuries due to an accident with a tanker truck or other dangerous vehicle, be sure to contact your New York personal injury attorney right away. We will send out our investigators to visit the scene of your accident as soon as possible. Our firm will also fight hard to obtain the maximum damages available to compensate you for all of your losses.