Furniture Tip Over Accidents Pose Serious Dangers to Children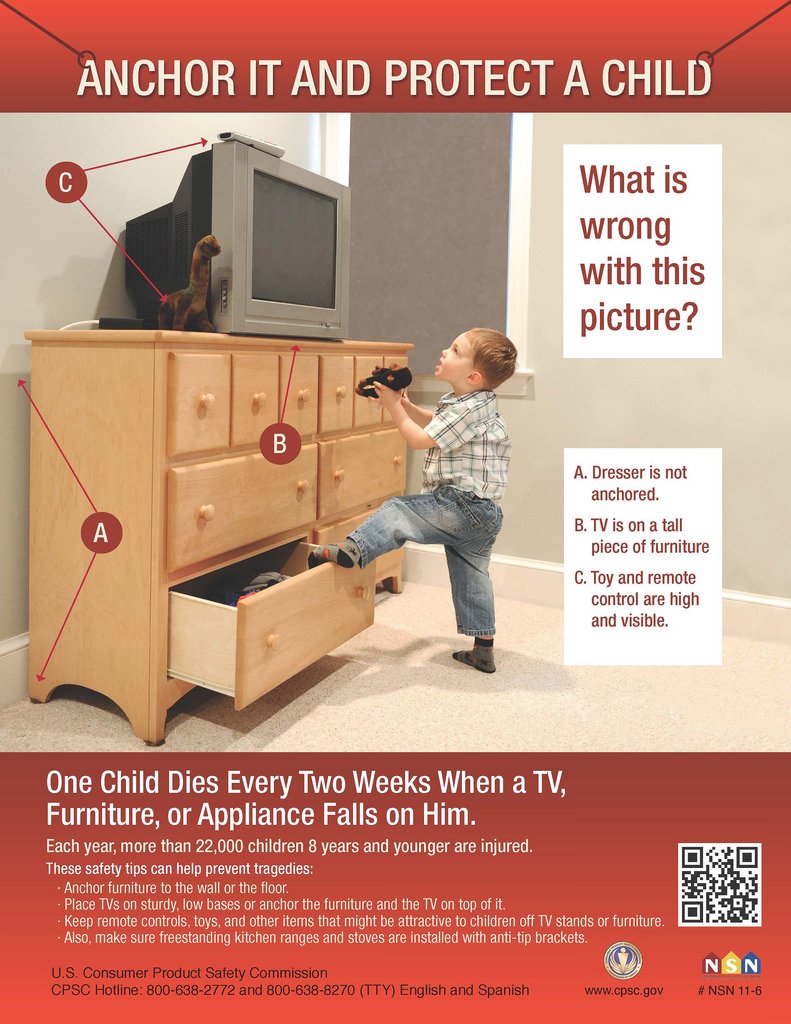 In May of 2017, another small child was crushed to death in California after an Ikea chest of drawers fell on the toddler. Sadly, the questionably designed piece of furniture was dangerously unstable resulting in another preventable furniture tip over accident.
That death became the eighth of its kind to occur in recent times. Less than a year earlier, in late December 2016, Ikea reached a $50 million settlement based on furniture accidents involving three other children. All four of these victims were near the age of two. Surely new legislation might help put a stop to these senseless deaths.
Lawyers for the three children involved in the 2016 settlement said that they had successfully argued in their case that the faulty Ikea Malm designs created the deadly dangers for the children. Back in June of 2016, in response to these tragic events, Ikea had recalled 29 million pieces of furniture.
Additional information is set forth below about these dangers that all parents and caregivers must fully understand. After all, both young children and the disabled may not be able to move out of the way in time when unstable furniture, large TVs, stoves, bookcases and other large objects start to fall on top of them.
What Facts and Statistics Tell Us About the Dangers of Tip-Over Accidents
Between 2000 and 2013, children were injured in 84 percent of the 430 deaths caused by tip-over accidents. These incidents involved furniture, televisions, and appliances;
About 65 percent of the children injured during that same period were between 18 months and three-and-one-half years old;
A child dies every two weeks due to some type of tip-over accident;
Sellers of goods should be required to hold themselves to higher safety standards. According to one Philadelphia attorney, if Ikea and all other sellers of large objects involved in most of these accidents would adhere to the U. S. Consumer Product Safety Commission's voluntary safety protocols, these deaths would be fully preventable;
Roughly 70% of these accidents involve large TVs or big pieces of furniture like bookshelves or chests of drawers. Far too often, children see a toy or TV remote control balanced on top of a large object and then try to climb up and grab it;
Many of these events are "crushing" accidents. When large pieces of furniture fall on top of small children, they prevent all further breathing. In some instances, objects that were on top of the large pieces of furniture (or appliances) fly off – hitting the children in their bodies, heads or faces and causing serious or deadly harm.
Which Age Groups of Children Are Most at Risk of Injury?
Kids between the ages three and five. Roughly 29% of all tip-over accidents are incurred by children in this age group;
Toddlers between the ages of one and two. These kids suffer close to 27% of all these injuries;
Young children between the ages of two and three. Approximately 24% of all these dangerous incidents affect these little ones;
Kids between ages five and nine. These children (who may be listening to their parents' warnings and obeying them) – only incur about 10 percent of tip-over injuries;
Babies up to the age of 12 months old. They incur about 8% of all these injuries.
What Further Steps Can Lawmakers Take to Protect Children?
It would greatly help if all sellers of large pieces of furniture, TV sets and other major appliances were legally required to install them in people's homes by using anchor kits. The U. S. Consumer Product Safety Commission could also require these same sellers to meet strictly enforced product design standards before being allowed to sell their goods.
If your child (or a disabled adult in your family) has suffered serious injuries or even died as the result of a tip-over accident, be sure to contact your New York personal injury attorney right away. We'll fully investigate the facts of your case. We'll then fight hard to win the maximum amount of compensation owed to cover your medical expenses, lost earnings and other related financial losses.