NY Construction Site Accident Lawyer Discusses OSHA Ladder Safety Standards for Construction Sites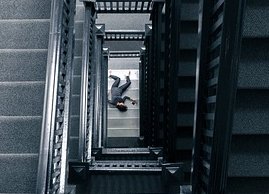 The Department of Labor's Occupational Safety and Health Administration (OSHA) helps protect all workers from unsafe working conditions explains New York construction site accident lawyer, Arkady Frekhtman, at the Frekhtman & Associates law firm. All employers are urged to regularly review OSHA safety standards with their work site managers and employees to be sure everything is properly handled according to all of the governing safety guidelines set forth in the Code of Federal Regulations (CFR).
In CFR 29, Part Number 1926 of Safety and Health Regulations for Construction addresses proper workplace standards for the use of both Stairways and Ladders.
Here's a look at some of the important ladder safety topics addressed in Standard Number 1926.1053.
Sample Government Regulations Regarding Ladder Types, Loads & Activities
Load capacities are discussed in regards to: self-supporting, fixed and portable ladders;
Ladder rungs, cleats, and steps are supposed to be parallel, level, and uniformly spaced when a ladder is in use;
The minimum clear distance between side rails for portable ladders is 11 and ½ inches (or 29 cm.);
The individual rungs of step ladders must be shaped so that employees' feet cannot slide off the ends of the rungs;
All ladder rungs and steps manufactured after March 15, 1991 must be "corrugated, knurled, dimpled, coated with skid-resistant material, or otherwise treated to minimize slipping;"
Components of ladders should be surfaced to prevent puncture or laceration injuries – as well as snagged clothing;
All ladders should only be used for the set purposes for which they were designed.
General Suggestions to Improve Ladder Safety
Proper ladder maintenance includes daily morning safety inspections. Every worker should be reminded that a ladder used the previous day may have been used for another purpose since then — and may no longer be adequately safe due to unseen damage. Always examine every ladder before climbing and working on it each day;
When examining a ladder, check to be sure all key parts are present and properly attached to it;
Only use a ladder on firm, level ground. When workers fail to honor this standard, they're far more likely to fall and be seriously or fatally injured;
Always secure a ladder, when possible, to a stable, safe surface. Never lean a ladder against an unsteady object like a frail tree branch;
Try to carry as little as possible when climbing a ladder. Pulleys and other devices are intended to help workers avoid carrying heavy objects while climbing ladders;
Whenever possible, avoid working on a ladder near power lines during windy weather;
Keep in mind the "four-to-one rule." This means that a ladder should be one foot away from whatever the top of the ladder is learning against – for every four feet of its height;
Always safely lock up and store ladders at night. Young children and teens too often break into construction sites and wind up getting hurt while using available ladders.
If your employer hasn't provided you with adequate ladder safety training, speak with your immediate supervisor and request this type of presentation. If you're an employer, you can find plenty of OSHA-endorsed ladder safety videos and other products online to share with your employees so that injuries and fatalities can be minimized.
Should you ever be seriously injured in a construction site accident, be sure to contact your New York construction accident attorney to receive critical legal advice for preserving your rights while obtaining the medical treatment you need.