NYC Construction Site Accident Law Firm Discusses Safety Tips for Decreasing Scaffolding Accidents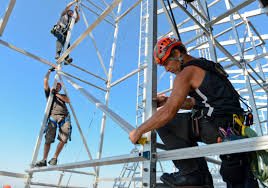 The U. S Occupational Safety & Health Administration (OSHA) estimates that over two million American employees regularly work on scaffolds while handling various building and construction projects. As they balance themselves on these elevated, temporary work platforms, about 4,500 employees are injured and another 50 lose their lives due to accidents.
Most scaffolding injuries occur when an employee slips, the planks or supports suddenly give way – or the worker is hit by a falling object. The most common types of scaffolds used are: (1) those supported by load-bearing poles or frames, (2) suspended scaffolding, and (3) aerial (or scissor) lifts.
Workers who use scaffolds must be provided with initial and periodic training programs that emphasize the different types of safety precautions addressed below
Critical steps employees must take to remain safe while working on scaffolding
Make sure a competent party erected and inspected the scaffolding. Never begin working on any scaffolding before making sure a properly trained professional erected it – and one of your supervisors formally checked to be sure it's still safe and secure. In general, scaffolding should be able to safely support about four times its largest load;
Always wear your hard hat and other required safety gear. Your outfit should include a non-skid pair of work boots – and some type of fall arrest system or harness. Always inspect your harness daily and anchor it properly to a sturdy object so it will stop you from falling more than six feet;
Ask to have guardrails added to any scaffolding that will support them. They're often your last line of defense before a fall;
Daily inspect each scaffold you're supposed to work on before handling any tasks. If it's not stable, have a supervisor inspect it with you;
Access all scaffolding properly. This normally means using an internal access staircase, fixed ladder or built-in ladder. Never use any careless shortcuts;
Avoid slippery surfaces. Workers should never walk on scaffolds that are wet or covered in snow, ice, mud – or any other type of general debris;
Never use boxes or any ladders to raise the level of the work platform. Doing so greatly increases your chances of being hurt in an accident. Instead, contact your supervisor and ask about the best way to alter the scaffold's height;
Clean off your scaffold before leaving each day. No tools or general work materials should ever be left behind since they can easily fall or be blown off and harm others.
Which types of scaffolding require fall arrest systems?
Aerial lifts
Needle beams
Boatswain chairs
Float scaffolds
Self-contained scaffolds may require both guardrails and fall arrest systems
Single and two-point scaffolds – may also require both protective measures
Chicken ladders
Catenary scaffolds
General supported scaffolds
Other safety measures supervisors may want to suggest
Using lanyards. Have all employees who work on scaffolding to attach lanyards or cords to every tool they use so they will not fall and hurt others;
Never allow employees to work on scaffolds during hard winds or driving rains;
Make sure all scaffolds bases are very stable. Supervisors may want to require that masonry blocks and bricks be used;
Never let employees work on scaffolds when the toe boards are missing.
Construction site managers and supervisors who follow all the safety suggestions set forth above can greatly diminish the number of scaffold accidents on their projects. In addition to keeping their employees healthier and free of unnecessary accidents, they'll also be helping America stop losing about $90 million a year due to lost worker productivity.
If you've recently been seriously injured due to a scaffolding or other construction site accident, be sure to contact your New York City personal injury attorney right away. We'll immediately investigate the facts of your case and tell you if we believe you can seek full compensation for your injuries in a civil action – brought separate and apart from your workers compensation claim.