Total Knee Replacement After an Accident at Work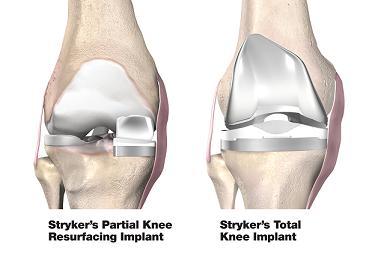 No matter what industry you work in, there is likely to be some aspect that is hard on your knees. Whether you are a construction worker that fell off scaffolding or a kitchen worker that slipped on a wet floor, no matter how you got the injury or what job you have, knee injuries cause great difficulty. A knee injury can very easily impede your ability to work for the rest of your life. Furthermore, after an evaluation, your doctor may recommend total knee replacement after an accident if your knee injury is severe. This type of surgery is an option to try and alleviate pain and may be needed where the existing knee ligaments can no longer function.
Unfortunately, total knee replacement surgery is an expensive process with a lengthy recovery time that can leave you laid up for a long while. This means that if you were hurt in a work accident, you will want to not only focus on healing, but seeking compensation as well.
Seeking Worker's Compensation for a Total Knee Replacement Surgery
If your injury is relatively fresh and you have not yet filed for worker's compensation, you will first want to inform your lawyer that the surgery is an option. The lawyer who is helping you with the filing will make sure that is counted in as your medical expenses. While worker's compensation doesn't necessarily need legal representation, the primary issue that those going it alone will run into is that the insurance adjusters will likely try to cut costs.
They may say that, while the accident may be partly responsible for the knee injury, your age or a previous injury to the area was a primary factor. This means they will try to argue that the total knee replacement surgery is not something that the worker's compensation insurance will cover. However, a lawyer will be able to gather the appropriate evidence to makes sure that it is covered.
If you require total knee replacement surgery after a worker's compensation claim is already closed, as many do, you may have the right to open that claim again. There are provisions that allow for further compensation if more is needed to treat an injury in the future, such as surgery. As doctors often take somewhat of a wait and see approach to knee injuries before deciding if surgery is required, you may need to contact your lawyer to see if your worker's compensation claim can be opened again.
What If You Can't Work After Your Surgery?
While total knee replacement surgery often has great results in relieving pain, it does come with a very long recovery time for the best results. However, for those who get worker's compensation for the surgery, the lost wages as a result will likely also be covered, at least in part. However, there is one thing that is common with total knee replacement surgery and it is that most patients will often have at least some permanent partial disability.
After the surgery is complete and you have healed up, you may need to return to work with some physical restrictions. Often these restrictions are small and many jobs can be accommodating, but for labor-heavy jobs, it can be an issue. There may be some jobs in which the worker cannot go back to after this surgery. In these cases, it is best to consult your lawyer on how this might affect your worker's compensation. In some cases, you may be able to receive disability or money for vocational training so you can find another job.
Have you been hurt at work in the New York City area and need help receiving worker's compensation for your injuries? Contact us today to see what Frekhtman & Associates can do to help you get the compensation you deserve after you have been hurt at work.