Truck Accident Lawyer Discusses Two-vehicle Crash Involving Dump Truck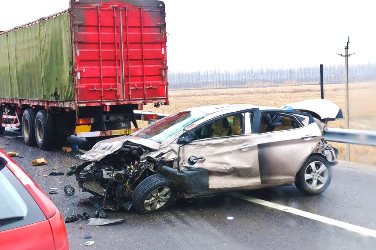 New York Truck Accident Lawyer at the Frekhtman & Associates Injury Law Firm discusses a collision between a dump truck and a passenger vehicle resulted in a loss of life. The accident happened in the western Connecticut community of Southbury on Friday, May 13. Dispatchers received multiple 911 calls about the crash at approximately 1:21 p.m., so local police and state troopers responded to the accident scene on Route 6 at Old Waterbury Road.
Accident Details
According to WTNH News, a 69-year-old female motorist driving a Subaru Legacy was westbound on Old Waterbury Road when her vehicle was broadsided by a dump truck northbound on Route 6, also known as Main Street North.
Motorist Found Unresponsive
First responders found the woman unresponsive, so life-saving efforts commenced. Emergency personnel transported the victim to Waterbury Hospital where she was pronounced dead. The dump truck driver was not injured.
Following the crash, authorities closed area roadways for approximately three hours. Investigators with the Connecticut State Police arrived to work on the accident reconstruction. There was no word on who or what caused the fatal wreck.
Although every truck accident is unique, trucking companies may incur liability if a truck driver or the company is found negligent. When it is reasonable to assert negligent conduct, a victim or survivors may seek compensation for certain medical expenses, pain-and-suffering and lost wages.
If you or a family member is a victim in a truck crash, it is possible to discuss the matter with a truck accident lawyer in the Bronx. We provide this consultation at no cost to you. To learn more about our legal services, please contact us.