New York City Ladder Accident Attorneys
Ladder accidents remain far too common in the construction industry and often result in traumatic brain injuries or even death. A study conducted by the CDC (Centers for Disease Control) found that almost half of all deadly workplace falls involved ladders.
During one recent year, close to 600 workers died after falling from higher levels on the job. Another 47,000 were so seriously injured that they had to take one or more days off work to recover.
Clearly, everyone needs to learn more about ladder safety, especially those who regularly work in the construction industry.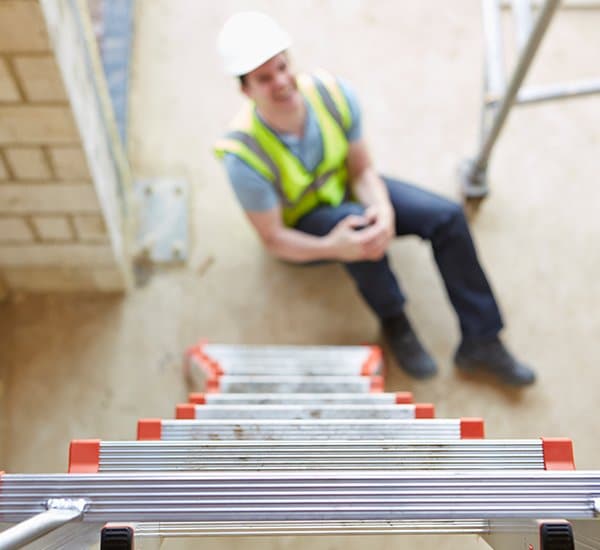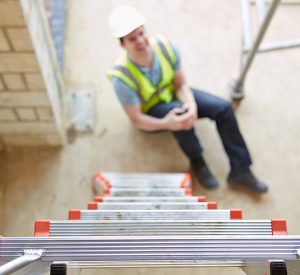 The following information includes useful terms and definitions regarding ladders and the best ways to inspect them while searching for potential safety hazards.
What are some common types of ladders used on construction sites?
Platform ladders. These portable ladders are self-supporting and nonadjustable in length. There is a platform provided at the highest level intended for work. They can often be recognized by their hinged design which makes it easy to store them;
Extension ladders. These are not self-supporting – but they can be arranged so that their length can be adjusted. They have two or more sections held together by strong brackets or guides;
Combination ladders. You can use these as either stepladders or extension ladders. Under certain circumstances, they can also be used as either trestle or stairwell ladders;
Articulated ladders. These are portable ladders with locking articulated joints that allow them to be used as straight or extension ladders (with or without a standoff). They also provide other useful formations;
Sectional ladders. These portable ladders are not self-supporting — and their length cannot be adjusted. However, they consist of at least two sections that can be combined to serve as a single ladder.
Additional ladder terms and definitions often used in the construction industry
The angle of inclination. This refers to the preferred pitch or position for non-supporting ladders;
Highest standing level. This involves the vertical distance (as described in feet and inches) from the top rung of the ladder a climber should stand on – down to the base support of the ladder;
A ladder's duty rating. This indicates a ladder's special design features and its safest uses;
Rear braces. These are the crosspieces or diagonals that are part of a self-supporting ladder. They're not intended for climbing purposes – only for support;
Toe cap. This is the highest level of a step stool or portable ladder.
Important problems to look for when examining a ladder for safety issues
The quality of the gripping or climbing rung surfaces. These should be wiped cleaned and then carefully re-examined — looking for any remaining oil or grease, as well as loose rivets or bolts. If the rungs are in bad shape, the ladder must be carefully marked and taken out of service until fully repaired;
Signs of exposure to corrosive substances. Suspicious wear-and-tear may mean that chemical corrosion has weakened key parts of a ladder. Check to be sure the ladder can still fully support all intended loads before regularly using it again;
Damaged or broken side rails. This type of damage often occurs when ladders are carelessly moved ("road shock") from one construction site to another. These damages can also occur when ladders aren't carefully stored while not in use;
Ladder "feet" or shoes. These are the lowest parts of a ladder that rest on supporting surfaces. Always check to be sure that they haven't been damaged after being used on any particularly rough, wet or uneven surface. If part of either "shoe" is broken, the whole ladder could fall at any moment while in use;
Fiberglass ladders. They are susceptible to excessive sunlight damage. You can first notice this type of damage when the outer surface of the ladder starts breaking down, making it feel very rough or worn. Once this happens, it may be time to replace the ladder.
Basic ladder safety tips that should always be kept in mind
Never plan to perform work while on a ladder. They are simply tools for access to work areas. Some type of scaffolding must usually be used when working above ground level;
Do not place the bottom of a ladder on a box, barrel, platform or other unstable surface. There's never a good reason to take this risk – even when needing extra height;
Never place a ladder in front of a door or entrance to a building. If there's no way to avoid this – then make sure the nearby area is locked – or have another worker stand there to warn people of the temporary danger, so they can find other ways to reach their destinations;
Avoid using a ladder as a type of brace, gangway or skid. Using a ladder for a purpose other than climbing to a different level can easily result in a serious or deadly accident.
If you've been seriously injured in a New York City ladder accident, you need to obtain legal advice from an experienced personal injury lawyer. Our firm has been representing clients like you for many years — and we know how to win the maximum compensation that's available. We'll fight hard to be sure you're fully reimbursed for all your financial expenses and losses caused by your accident.