Serious New York City Stairway, Ramp, Sidewalk and Parking Lot Injuries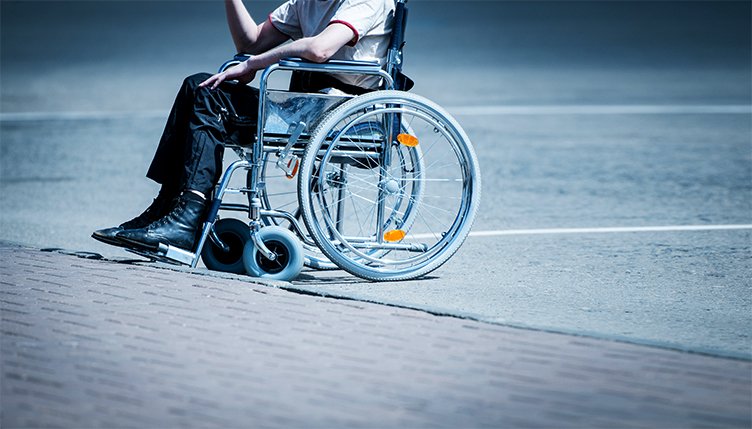 New York City residents constantly suffer serious injuries while driving in parking lots. They also get hurt when using stairways, ramps and sidewalks. One major medical journal article states that at least one million Americans injure themselves annually on staircases. Although roughly 50% of all homes have staircases, many of these accidents also occur in the workplace.
While many people injured on stairs are much older, two-thirds of those who seek emergency room treatment for stairway injuries are between the ages of eleven and sixty. Stairway accidents often occur because people are distracted — or because of design hazards. In some cases, adequate handrails were not provided.
Sidewalks, ramps and parking lots also pose unique hazards for many New York City pedestrians and drivers. Disabled people using wheelchairs and curb ramps are often at the highest risk on our streets. One study found that in over 75% of street accidents involving pedestrians in wheelchairs, there were no driver attempts to hit the brakes before those events.
Here's some additional information about the large number of New York City accidents that involve sidewalks, ramps and parking lots.
Dangers posed by New York City sidewalks and ramps for the disabled
Far too often, disabled wheelchair users in New York City find themselves arriving at corners where sidewalk ramps leading into the crosswalks are either non-existent – or too damaged to support a chair passing over them. One of the goals of the city's Vision Zero program is to make all curbs wheelchair accessible. However, this is clearly a long-term goal since the city has at least 162,000 corners needing attention – and over 300,000 ramps. Repairs are often complicated when the sidewalk areas involved are located near historical buildings, light poles, catch basins and subway entrances.
Injuries are also common when the disabled are forced to try and move across broken pieces of cement and limited access to the street. In many cases, defective sidewalks and ramps on private property must be fixed by the owners. It's always wise upon learning about a sidewalk violation to check with New York City's Department of Transportation (DOT) to find out who is responsible for the repair. Property owners should move quickly to make many repairs since there are short deadlines for completing such projects.
New York City parking lot injuries
Public parking lots can be very dangerous for both pedestrians and motorists. Everyone needs to understand that there are in most parking lots — feeder lanes and thoroughfare lanes. The latter type lead directly into a street. The smaller feeder lanes begin and end at the thoroughfare lanes. The drivers in the thoroughfare lanes nearly always have the right of way. We must all keep those facts in mind when driving in parking lots.
In order to help all of us improve the way we interact in parking lots – either as pedestrians or drivers – some useful safety tips have been provided below.
Errors to avoid while driving or walking in parking lots
Never think that anyone can clearly see you. Switch on a turn signal, when necessary, and use a proper hand signal;
Never drive fast. Another driver or pedestrian may make a move at any second;
Avoid backing up any more than is necessary. Keep looking in all directions as you must back up. There are numerous blind spots in parking lots, especially since so many vehicles are much taller than others — and drivers cannot always see someone who has just started to back up out of a parking spot;
Don't walk alone if you can avoid it. It's always easier for drivers to see multiple people walking together. If you must walk alone, do so on a sidewalk provided or in the driving lane – constantly looking out for cars. It can be very dangerous walking between parked cars in a parking lot;
Always wear shoes that are easy to walk in and without tall heels. Since you may need to move quickly, heeled shoes can prove dangerous;
Look both ways before making any move in your car or on foot;
If the parking area is well lit and appears safe (with adequate security patrols), consider parking further away from most of the other vehicles. This can lower your chances of later being hit and might even speed up your exit time;
Take a good look at the surface of every parking lot when you enter. If it appears to have many areas with broken cement or other major surface problems, consider leaving and finding a safer place to park;
Keep your eyes wide open, looking for broken glass and road surface hazards. Be especially careful if any speed bumps are present since those can cause drivers to lose control of their vehicles;
Employer parking lots. Employers have a duty to keep these clear of dangerous objects and uneven surfaces. If lighting or the security presence is poor, report these problems right away to your boss and make sure they're readily addressed. Claims for negligence can succeed when employers should have known about ongoing parking lot dangers and failed to correct them.
If you've suffered a serious injury due to another person's negligence, you need to contact our New York City personal injury law firm. We can professionally investigate your case before fighting hard to win the maximum compensation available for you. We'll make sure you're paid damages for all your lost wages, pain and suffering, medical expenses and other losses.