Burn Injury Accidents at Home and in the Workplace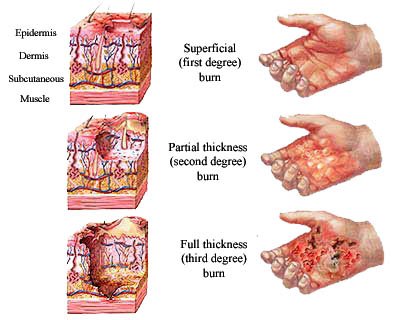 According to the American Burn Association, approximately 486,000 Americans suffer from burns which require them to seek medical attention.  Nearly 75% of all burn accidents occur at home, with an addition 10% happening at the workplace.  Though burn accidents occur frequently, many are preventable.  Here's what you should know about burn injuries and steps you can take to prevent accidents from happening.
When we typically think of burns, the first thing that comes to mind is the sensation that we feel when we touch something hot, or our skin comes into contact with fire.  While this is true, burns are more specifically defined by damage to the skin severe enough to cause the cells to die.
Types of Burns
There a four "types" or degrees of burns which vary in severity of damage to the body.
First-degree burns result in a reddening of the skin absent any blisters.
Second-degree burns result in blistering and in some cases thickening of the skin
Third-degree burns tend to be widespread across the body and cause the skin to take on a white leathery appearance
Fourth-degree burns: Though rare, fourth-degree burns can occur.  In addition to the symptoms of third-degree burns, fourth degree burns more deeply affect a person's bones and tendons
What Causes Burns?
In addition to more common causes like fire and hot liquids, there are other causes of burns, including:
Exposure to the sun (sunburn)
Chemical burns
Electrical burns
There is no correlation between the type of burn and its cause or the need to seek medical attention.  For example, although chemical burns may show little obvious signs of damage to the skin, one should seek medical treatment immediately to assess any potential internal damage.
Burn Accidents in the Workplace
Accidents which occur in the workplace are unfortunately typically caused by the negligence of another party.  Common causes of occupational burns, include:
Working conditions which are unsafe
Lack of well-trained staff on the handling of flammable materials
Failure to properly store chemicals
Defective machinery
Other OSHA violations
If you suffer an injury at work, you should seek medical attention immediately and make your employer aware of the incident.
How Can I Prevent a Burn Accident at Home?
As most burn accidents occur at home, here are some things you can do to reduce your chances of an incident.
Place a fire extinguisher in your home
Inspect electrical cords and discard those with exposed wires
Test smoke detectors regularly, but no less than once a month
Install covers on electrical outlets
Wear gloves when using products which contain chemicals
While prevention is helpful, it is in some cases not enough to prevent burns resulting from manufacturing defects, including defective camping equipment, stoves, and ovens.
If you have any questions about burn injuries or would like to discuss your case with one of our dedicated attorneys, please feel free to contact us today for more information.