Invokana Amputation Lawyer Discusses Clinical Trials and FDA Warnings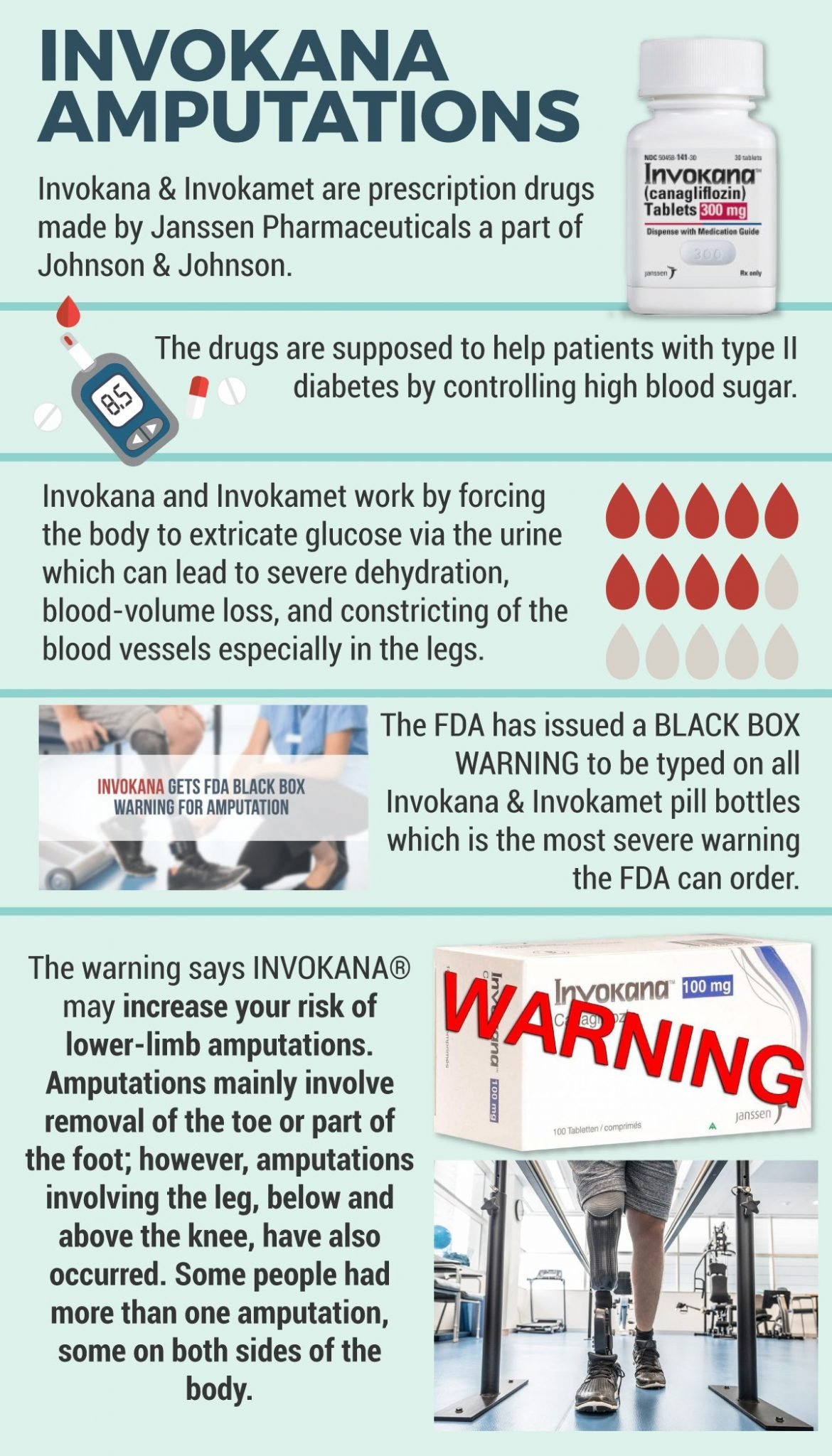 On May 16, 2017, the U.S. Food and Drug Administration (FDA) posted a safety alert regarding amputation risks associated with the diabetes medication Canagliflozin (Invokana, Invokamet XR and Invokamet). An Invokana Amputation Lawyer at the F&A Injury Law Firm in New York, NY explains that this FDA alert included a "black box warning," which the FDA says is "designed to call attention to serious or life-threatening risks."
What is Invokana (Canagliflozin)?
Invokana is a single-ingredient prescription medication that, along with exercise and a special diet, lowers blood sugar in adults diagnosed with Type II diabetes. Invokana is in a group of prescription drugs commonly referred to as sodium-glucose cotransporter-2 (SGLT2) inhibitors. The drug lowers blood sugar by helping kidneys remove sugar through urine. It is a product of Janssen Pharmaceuticals.
According to the FDA, other possible Invokana side effects include: low blood pressure, excess blood potassium, urinary tract infections, ketoacidosis (excess acid in the blood), yeast infections, increased cholesterol and bone fractures.
Studies Point to Increased Amputation Risk
Two clinical trials led to the FDA warning. They were the Canagliflozin Cardiovascular Assessment Study (CANVAS) and A Study of the Effects of Canagliflozin on Renal Endpoints in Adult Participants With Type 2 Diabetes Mellitus (CANVAS-R). Researchers followed patients participating in the CANVAS study for an average of 5.7 years. The CANVAS study followed patients taking either 100mg or 300mg doses. Researchers followed patients in the CANVAS-R study for an average of 2.1 years. Patients in the CANVAS-R study took 100mg doses of the drug. A total of 10,142 patients participated in the two studies.
In June 2017, results of the studies were reported at the American Diabetes Association (ADA) 77th Scientific Sessions in San Diego, California. At the time, the results were published in the New England Journal of Medicine.
Following a review of data from the two trials, the FDA concluded that the medicine increases the incidence of both foot and leg amputations. As a result, the FDA now requires manufacturers to post new warnings regarding the amputation risk. In addition to the FDA warning, the European Medicines Agency now requires a warning on labels of all SGLT2 inhibitors.
According to the FDA, the studies revealed approximately double the amputations in patients who took the medication compared to those who only received an inert placebo. Although the most common amputations involved "the toe and middle of the foot," surgeons also performed some leg amputations above or below the knee. The FDA further notes that some patients endured amputations involving both limbs.
Data from Clinical Trials
As reported by the FDA, the CANVAS study reported an amputation rate of 5.9 per 1000 patients per year for those taking Canagliflozin. Those receiving a placebo required amputations at a rate of 2.8 per 1000 patients per year. In the CANVAS-R trial, those taking a placebo required amputations at a rate of 4.2 per 1000 patients per year. However, those taking Canagliflozin required amputations at a rate of 7.5 per 1000 patients per year.
When the FDA posts a safety alert, the agency encourages medical professionals and patients to report adverse events or side effects via the MedWatch Safety Information and Adverse Event Reporting Program.
If you or a family member required an amputation while on Invokana, it is may be possible to file a civil lawsuit seeking monetary compensation for a variety of reasons, including pain, suffering and certain medical expenses. The majority of such claims are settled without going to trial.
Our firm offers you the opportunity to speak with an attorney about possible injuries due to Invokana. This consultation is free of charge. We fight hard to get our clients the full compensation they deserve under all applicable laws. To arrange to speak with one of our attorneys, or to ask your questions, please contact us.