New York City Birth Injury Lawyers Discuss $1.3 Million Jury Award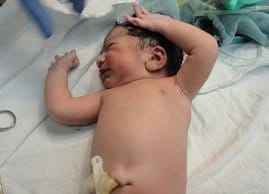 A jury in Philadelphia, Pennsylvania, awarded $1.3 million to the estate of an infant who died following complex heart surgery at St. Christopher's Hospital for Children explains one of the New York City birth injury lawyers at the F&A personal injury law firm. After an 11-1 vote, the jury returned the verdict in Common Pleas Court on Tuesday, June 7, 2016. The jury concluded that the infant's death resulted from an excess amount of calcium administered by the anesthesiologist during the procedure.
Higher Mortality Rate
A previous Philadelphia Inquirer investigation revealed a higher mortality rate at this hospital compared to hospitals nationwide. Specifically, from 2009 to 2014, newborns that underwent complex heart surgery at St. Christopher's did not survive 24 percent of the time, while the nationwide mortality rate is less than nine percent. The newspaper also concluded that newborns, defined as patients less than one month old, remained at the hospital far longer than was typical throughout the nation's healthcare system.
Details of Infant's Hospitalization
In this case, the newborn underwent heart surgery when he was two days old in May 2011. Following the procedure, surgeons did not suture the incision for 11 days due to concerns over the swelling of heart tissue. To get the heart to beat more strongly, the anesthesiologist administered 400 mg of calcium over a 30-minute period. The child's heart then stopped beating, and attending physicians finally revived the child after 13 minutes passed. He died nine days later.
Following the verdict, it was not known whether the hospital or the anesthesiologist intended to appeal the $1.3 million verdict.
If you or a loved one is a victim of possible medical error, it is possible to review the details of the case with birth injury lawyers focused on relevant areas of medical malpractice law. We provide this consultation free of charge and we fight hard to get our clients every dollar that they deserve under the law. To learn more, please contact us.