NY motorcycle accident lawyer serves as an advocate for motorcycle passengers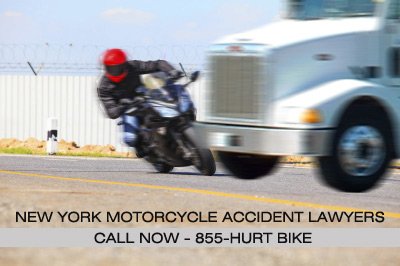 Motorcycle accidents are a serious problem on the roads. The CDC reports that between 1999 and 2008, motorcyclist deaths more than doubled, even as there were declines in other kinds of vehicular collision fatalities.
In addition to examining the safety and driving behaviors of motorcyclists, and whether or not they shared the fault for a crash, it's important to consider motorcycle passengers as well. Motorcycle passengers are also vulnerable and exposed to collisions on the road; furthermore, they have little to no control over the behavior of the motorcycle driver (let alone any other drivers on the road).
The vulnerability of motorcycle passengers was highlighted in two recent accidents where passengers sustained fatal injuries. In one accident on the New York State Thruway, a motorcycle operator lost control of his vehicle, resulting in critical injuries for him and death for his passenger. In the second accident, which took place in the Grand Central Parkway in Queens, a motorcycle operator again lost control of his vehicle, putting him in the hospital with stable injuries and resulting in fatal injuries for his passenger.
How a motorcycle accident lawyer can help
Motorcycle passengers can require legal representation after an accident as well. One of the main issues they may face is which insurance companies to file claims with. For example, they might turn to the motorcycle driver's insurance company along with the insurance company for the drivers of other vehicles involved in the crash. A lawyer can help with sorting out insurance issues, processing complicated claims, and fighting for sufficient coverage.
Motorcycle passengers may also need representation in a personal injury lawsuit, or their loved ones may seek to file a wrongful death suit if they don't survive. Having an experienced legal advocate on your side increases the chances that you will obtain the compensation you need to cope and heal after an accident.
Be sure to contact us to discuss your case. We work with a dedication to your needs and well-being.