Queens Bus Accident Lawyers Discuss Today's Deadly Bus Crash in Flushing: Could Poor Bus Maintenance Be A Cause ?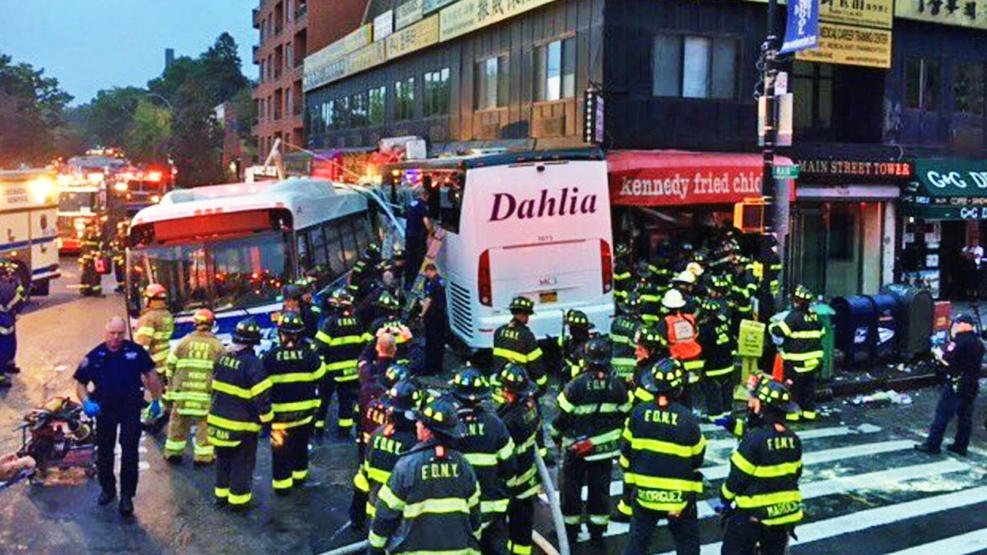 A deadly bus crash occurred in Queens today on Northern Boulevard near Main Street in Flushing explains one of the Queens bus accident lawyers at the F&A injury law firm. Three people were killed and up to 17 injured when a private charter bus collided with a Q20 New York City bus. According to reports from major New York newspapers, the charter bus' speedometer may have malfunctioned with the speed stuck at 60 miles per hour on a street with a speed limit of just 25 m.p.h. While bus accidents can have many causes, at least at first glance, it appears as though bus maintenance could play a role in this accident.
A private charter bus company has a responsibility and duty to keep their buses well maintained, inspected, and repaired.  Making frequent inspections and conducting immediate maintenance and repairs for malfunctions is of utmost importance. Unfortunately not all companies maintain and repair their buses properly. Many bus companies have actually been closed due to severe safety violations including failing to maintain or repair buses or refusing inspections required by law.
New York State requires inspections of buses at least once every six months and a bus that fails inspection cannot carry passengers. There are comprehensive safety regulations dealing with bus companies which are meant to prevent bus accidents. The Federal Motor Carrier Safety Administration has online research about bus company safety and has launched a mobile app called Saferbus.
New York State law says:
720.2 VEHICLE INSPECTION, RECIPROCITY AND CERTIFICATION. (A) A motor vehicle subject to department inspection requirements shall not be operated unless it displays on the interior surface of the windshield, as close to the lower right hand corner as practicable*, an unexpired certificate of inspection issued to the current owner or operator by the department, or by another regulatory body certified by the department. In lieu of such certificate of inspection, the department shall recognize the display of a valid certificate of inspection issued within the preceding six months for a motor vehicle having a seating capacity of more than 10 passengers engaged in interstate commerce by the following: (1) The Commercial Vehicle Safety Alliance certificate of safety inspection. See Section 720.11(F) of this Part. (2) A certificate of inspection of any state recognized by the United States Department of Transportation as conducting periodic bus inspections in accordance with Federal standards, or (3) The Public Service Commission of the State of Delaware.
Investigators were looking to speed being a factor in today's crash because the buses spun around with one crashing into a restaurant on the corner of Main Street and Northern Boulevard in Queens, New York. The bus must have been going very fast for the buses to spin around and then one bus crash into a building.  A fire ignited following the collision. One witness at the scene said he felt the impact shake his truck.
New York law with respect to speedometers on buses reads:
720.4 (Q) SPEEDOMETER. Every motor vehicle shall be equipped with a speedometer mounted in a position clearly visible to the driver and designed to be easily maintained in a good operating condition. The speedometer shall indicate vehicle speed in miles per hour and shall be illuminated.
If the cause of today's crash was due to excessive speed due to a mechanical problem where the speed of the charter bus could not be reduced, investigators will examine all of the evidence to confirm and pinpoint the precise maintenance issue. Hopefully this information will aid bus companies in keeping their vehicles safe to help prevent tragic accidents like this one.