Although motorcycles have provided many New Yorkers with dependable vehicles for getting to and from work, they still pose serious personal injury risks. A personal injury attorney who specializes in motorcycle injuries and accidents can help guide injury victims and their families on the path to a full and speedy recovery both physically and financially.
For those injured, while riding motorcycles, the best chance possible to obtain compensation for their injuries may be working with a Bronx motorcycle accident lawyer. The legal process can be confusing but a practiced injury attorney understands the rights of motorcyclists and can help you assert those rights.
Winning the Money You Need After Your Motorcycle Crash
After a motorcycle accident, the medical bills start to increase. Injury victims and families still have the monthly expenses: rent, utilities, mortgage payments yet now an injured person may be unable to work with no paycheck coming in. In this difficult time, it is vital to consult with a trusted legal advisor to help guide you.
Our law firm's mission  is to help serious injury victims and families recover: 
Medical Expenses
A motorcycle rider will have to file a claim against the at-fault party defendant to obtain money because PIP benefits or No-Fault statutes exclude motorcyclists. Medical expenses can include:
Emergency room & ambulance bills
Hospital bills
Diagnostic Testing such as Xrays, MRIs, CT-scans, and others
Follow  up appointments with specialists like an orthopedic surgeon
Surgery which can be very expensive. A spinal fusion can cost $100,000+
Medical Equipment such as collars, crutches, braces, wheelchair, walker, etc.
Physical Therapy & Rehabilitation
Occupational Therapy to relearn how to perform functions and tasks of daily living
Psychological Therapy: psychiatrists, psychologists for victims suffering from emotional trauma and emotional distress & anguish after a crash
Lost Wages
After a crash, it may be difficult to return to work because you need medical care on a daily basis and your doctors do not clear you to work given your injuries. Even if some people are able to return, they will continue to miss work because of medical appointments and future surgeries. Many people require more frequent breaks or to be put on light duty. Injury victims can recover past and future lost salary, lost wages, and lost earnings as follows:
lost wages via your pay stub, W2 or 1099; annual tax returns help prove your losses
loss of earning capacity or earning potential: you are making less money due to your injuries
the value of household services
fringe benefits such as union benefits, pension, overtime
unrealized occupation: if someone was pursuing a course of training for a career that was delayed due to injuries from the crash. There is a special Pattern Jury Instruction ("PJI") for this.
Pain and Suffering
pain is the physical sensation
suffering is the experience you go through because of the pain
Loss of Enjoyment of Life
How Will a Personal Injury Lawyer Help Me After a Bronx Motorcycle Crash?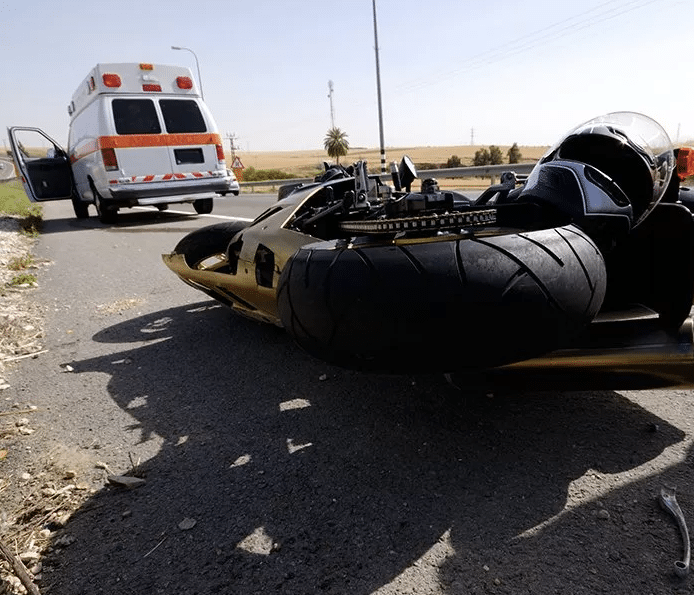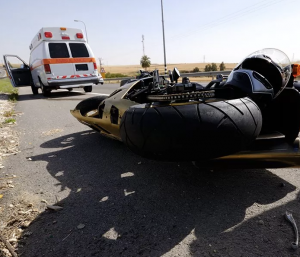 After a Bronx motorcycle crash, the police may take the motor vehicle driver's side and issue an unhelpful report. The insurance company and the at-fault party will fight to pay out as little money as possible. Working with an experienced and successful motorcycle accident attorney will allow you to:
get the medical care you need to feel better
have your medical care coordinated by a med-legal team
build a strong medical record and evidence to present to a judge and jury at trial
have a legal advisor answer all your questions and help guide you through the lawsuit process
negotiate and obtain the largest settlement or verdict possible
conduct a full and complete investigation of the crash
identify all potential defendants and sources of financial recovery
hire top liability experts including engineers and accident reconstruction specialists
work with top medical specialists in the fields of neurology, brain injury, spinal cord injury, etc
The motorcycle accident lawyers at the F&A Injury Law Firm have been helping serious injury victims and their families for more than twenty (20) years. Please contact us for a free no-obligation legal consultation so we can understand your questions and help you.
How Much is a Good Settlement for a Motorcycle Accident in The Bronx?
A good settlement or jury verdict must match your own sense of justice, reasonableness, and fairness. Full justice in a motorcycle crash lawsuit cannot be quantified as large or small but rather commensurate with the details of your particular case.
Our firm has settled motorcycle lawsuits from $25,000 up to over $1,000,000.00 (One Million Dollars). The ultimate amount depends on a few factors most important of which are:
can you prove the defendant you are suing is at fault? Known by attorneys as "LIABILITY"
what are your injuries? How did this crash affect your life & your human story?
How much insurance does the defendant you are suing have?
Do Motorcycle Crashes Happen a lot in the Bronx?
More than twenty percent of the 350 monthly motorcycle traffic accidents in NYC happen on the roads of the Bronx which on average means there are from 2-3 crashes in the Bronx borough on a daily basis.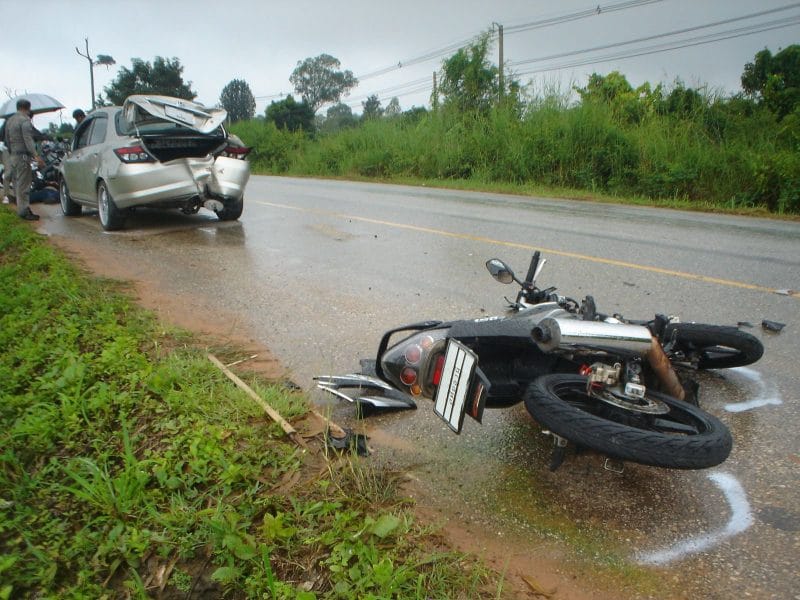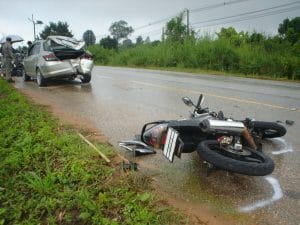 In fact, a recent New York Daily News article referenced the "recent rash of motorcycle deaths" during the summer of 2020. This is not a new phenomenon as we wrote about the dangers of Bronx motorcycle injuries in 2017.
One young Bronx motorcycle rider was struck and killed in May by the driver of a Toyota Corolla.  The accident occurred in the Soundview neighborhood near the intersection of White Plains Road and Bruckner Boulevard.
Another tragic motorcycle death involved 37-year-old Delroy Morris — he was hit and killed by the driver of an NYPD SUV. The officer behind the wheel ran a red light while responding to a report of a shooting event (that later proved unfounded). A public demonstration took place shortly after that senseless death happened.
Fortunately, there are many steps motorcyclists and other drivers can take to try and reduce the number of these accidents that occur almost daily. The following information briefly reviews the most common motorcycle accident injuries and then notes safety guidelines that can help all motorcyclists and other drivers to greatly reduce these accidents.
What are most Motorcycle accidents caused by in the Bronx?
The causes of motorcycle crashes can include a wide array of influences: cars, trucks, buses, other motorcyclists, bicycles, or pedestrians. Being able to identify the cause is important to establishing the defendant in a lawsuit is at fault.
Often times the most common causes are also found in statutes such as the Vehicle and Traffic Law ("VTL") which prohibit following too closely, left turns, yielding the right of way. We also see the common causes in the Pattern Jury Instructions which a judge reads to a jury to enable them to decide liability at the end of a trial. Filing a lawsuit by an accident injury lawyer in Supreme Court can help investigate and prove the real cause of a collision.
Common causes of  motorcycle crashes include:
Driver Error
failure to see what there is to be seen
failure to keep a proper lookout
failure to yield the right of way
texting while driving or other distracted driving
Issues with motor vehicles:
defective brakes
a blown tire
unsecured cargo falling from a trailer
or an unclear or unidentified issue.
Does health insurance cover motorcycle accidents ?
Yes. An injured motorcycle rider can use his or her health insurance for medical coverage allowing them to get the medical care they need.  Since there is no PIP automobile benefits by law for motorcyclists, it is very important to be able to use your own medical insurance or another method that allows you to obtain medical treatment. An injured motorcyclist does not need to meet a minimum serious injury threshold under Insurance Law 5102(d).
Does Medicare cover motorcycle accidents?
Yes. Medicare, Medicaid, and other programs are all a form of health insurance. If you have Medicare or qualify to receive Medicare and get into a motorcycle collision, you can use your Medicare to get medical treatment.
How much can you claim from a motorcycle accident?
There is no cap or limit. It all depends on how much insurance the defendant you are suing has, who was at fault, and what injuries you sustained. In Supreme Court of the State of New York for the County of Bronx which is the trial court in the Bronx, NY an injured motorcyclist can sue for any amount which exceeds the jurisdictional limits of all lower courts. Civil court has a jurisdictional limit of $50,000 or less. Supreme Court has no monetary limit.
How can car drivers help improve safety and avoid careless behavior towards bikers?
All vehicle drivers should exercise greater precautions when traveling near motorcycles to avoid a wreck. Careful defensive driving also levels the playing field between unprotected motorcyclists and operators of motor vehicles, trucks, buses, vans, and other "cages":
Car and truck drivers should graciously yield the right-of-way to those riding on motorcycles. Frequently, many people ride motorcycles because they cannot afford all the added expenses involved with owning and maintaining a car. Being respectful of others' added needs on the road should come naturally to all of us.
Everyone must stop driving distracted and tailgating others. Just because many of us have the full armor of a car or truck around us (riders call them "cages"), we do not have any excuse to drive distracted — putting the lives of others at greater risk.
Motorists who tailgate behind motorcyclists wind up causing far too many fatal accidents each year.
Driving too fast. During the last two decades, speed has played a direct role in about one- third (33 1/3%) of all fatal motorcycle accidents. And in 2017, accident statistics reveal that driving at excessive speeds was a contributing factor in over one-fourth (25%) of all motorcycle and other road fatalities.
Getting behind the wheel of a car when intoxicated or compromised by potent drugs. Every driver must be responsible enough to have someone else drive whenever they have recently imbibed alcohol, smoked marijuana — or taken drugs known to impair people's cognitive skills and physical reaction time.
Failing to obey all traffic signs and lights at intersections. Everyone must carefully look at each sign they pass since new and updated ones are posted regularly. It is also crucial to avoid running yellow lights when going through intersections.
If you are personally overwhelmed by too many motorcyclists riding on specific streets, consider finding alternate paths to your destinations.
Can I Still Win My Bronx Motorcycle Case if I Was NOT Wearing My Helmet?
The law in New York requires motorcyclists to wear a helmet but not wearing one does NOT mean you automatically lose your case. Often not wearing a helmet had nothing to do with the reason for the crash making it irrelevant.
Remember the fact that you didn't wear your helmet did not give the defendant the right to disobey the rules of the road or other safety norms. Often the defense will use a failure to wear a helmet as an argument against you that you failed to mitigate or lessen your damages.
This applies if the defense can prove that wearing a helmet would have likely lead to a lesser injury.
What can motorcycle riders do to stay safe and protect themselves?
Key choices that Bronx motorcycle riders can choose to better protect themselves from reckless drivers not to become a crash victim while also protecting their legal rights:
Invest in an anti-lock braking system. When riding a motorcycle with this type of braking system, you have a 31 percent (31%) lower chance of being in a fatal crash. These types of brakes should probably be mandatory — to better protect all motorcycle riders.
Buy several outfits referred to "air bag" clothing, in addition to some rugged boots.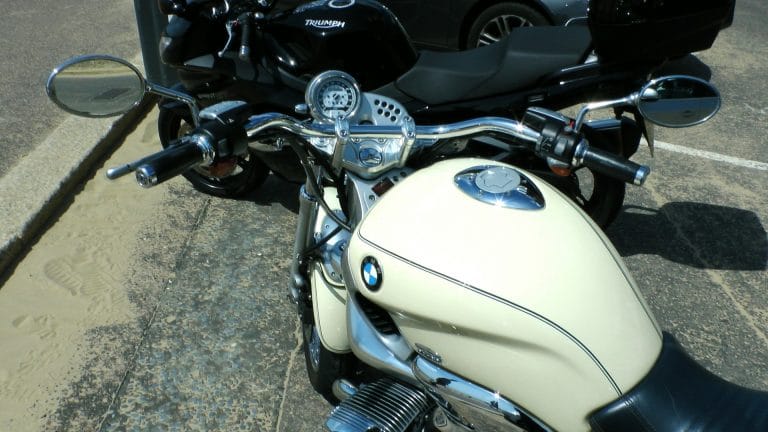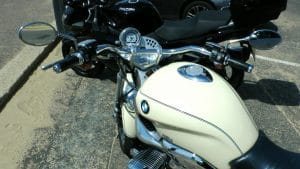 Without the protection of large truck and car body frames, motorcyclists must purchase the best gear available to minimize all potential physical injuries. Many of these pieces of airbag clothing come with a computerized system that can usually tell when a rider is about to be in an accident. Bike owners who shun this type of technology and clothing should seriously consider switching to public transit – based on the high numbers of motorcyclists who are annually killed on Bronx streets and freeways.
Buy the most expensive, well-crafted helmet you can afford. Every year, traumatic brain injuries cause severe, permanent damage to too many riders. Make sure the helmet you buy fits the type of riding you do most often. Also, be thoughtful and purchase a high-quality helmet for your future passengers.
Consider riding only part of the way to your regular, distant destinations. If there's heavy traffic beyond a train station or bus terminal that's not too far from where you live, give serious thought to just riding your motorcycle to that halfway point and riding public transit the rest of the way.
Avoid riding a motorcycle when it is raining or snowing. While many riders ignore this advice, wet streets always play a role in higher motorcycle accident statistics.
If you have suffered a serious motorcycle injury due to someone else's negligence, you need to contact our Bronx motorcycle accident injury law firm. We will carefully investigate all the facts of your case, review all your medical records, and then fight hard to win the maximum compensation available to you. We want every client to fully recover for all lost wages, pain and suffering, medical expenses, and other losses.
Do motorcyclists assume the risk of crashes?
Many people believe motorcycle riders assume all risk of an accident when riding their bikes. As a result, motorcycles are sometimes not given the full respect they deserve on the road. In truth, motorcyclists have the same rights and obligations under the law as all other motorists.
For those injured, while riding motorcycles, the best chance possible to obtain compensation for their injuries may be working with a Bronx motorcycle accident lawyer. The legal process can be confusing but an experienced injury attorney understands the rights of motorcyclists and can help you assert those rights.
How long do I have to file a claim?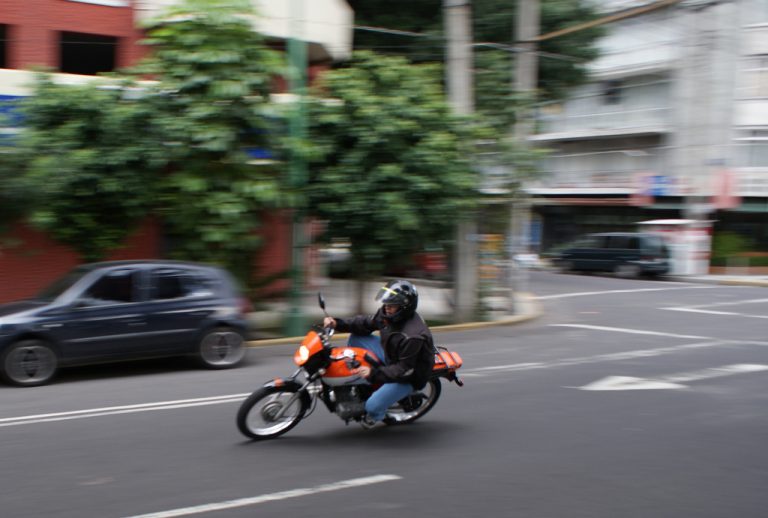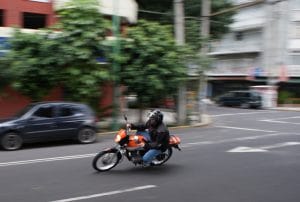 Motorcyclists suing any private vehicle have three years from the date of the incident in New York as per the statute of limitations. If the crash involved a New York City vehicle then a Notice of Claim must be filed within ninety (90) days and a lawsuit must be filed within one year and ninety (90) days after the crash. There are additional time limits for other entities so it's best to consult with a personal injury attorney.
How long will my case take until I get paid?
The true answer is one many people don't want to hear – it all depends. Usually smaller cases can be resolved in just a few months with the injured rider getting medical treatment and the lawyer negotiating a favorable settlement. We have had cases settled in four (4) months from the crash date which is lightning fast. Another scenario where a case can resolve quickly is when the insurance policy limits are small but the injury is severe.
For example, if a motorcycle rider gets rear-ended by a car with a $25k policy leaving her with a fractured ankle requiring open reduction internal fixation (ORIF) Here, the rider has a potentially half million to million-plus injury yet the car who is 100% at fault only has $25,000 in insurance limits. The rider would submit her medical package to the bodily injury adjuster and receive a policy tender meaning the insurance carrier is tendering or releasing all of the money available: the full limits.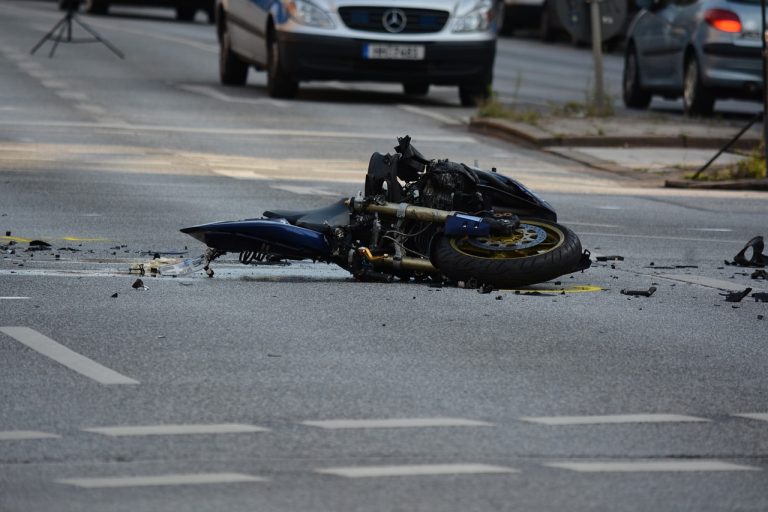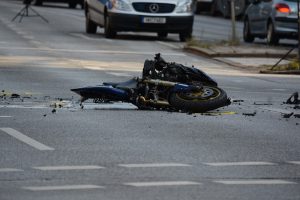 Cases take longer such as a few years when there are complex issues involved such as product liability, manufacturing defects, the need for expert investigations, and other complex litigation matters.
Usually, a lawsuit where the plaintiff and defendant strongly disagree on value and are far apart in negotiations will take time because it will need to go all the way through the legal process to a jury trial. For example, a plaintiff thinks a case is worth $1 million but the defendants offer $25,000, and each side confident in their position. The only way to resolve it is via jury trial which can take years especially now with all trials paused due to the Covid19 pandemic.
Another way a case could get delayed is when the lawyer prosecuting the case does not do so diligently allowing it to stall in discovery. The courts in NY are overburdened as is so in reality, no judge is going to speed up your case if your lawyer has too many files or is just not moving the case efficiently. This can mean a huge time difference when all is said and done –  even a few years.
A case can easily get stuck in discovery with no certification of trial readiness lingering for years. Different venues also affect the timeline. Some courts are fast while others are slower.
How Much Can I Expect to Get After a Bronx Motorcycle Crash?
There is no such thing as a large settlement or a small settlement. There is only JUSTICE for your particular case taking into account all the details, facts, and specifics. This of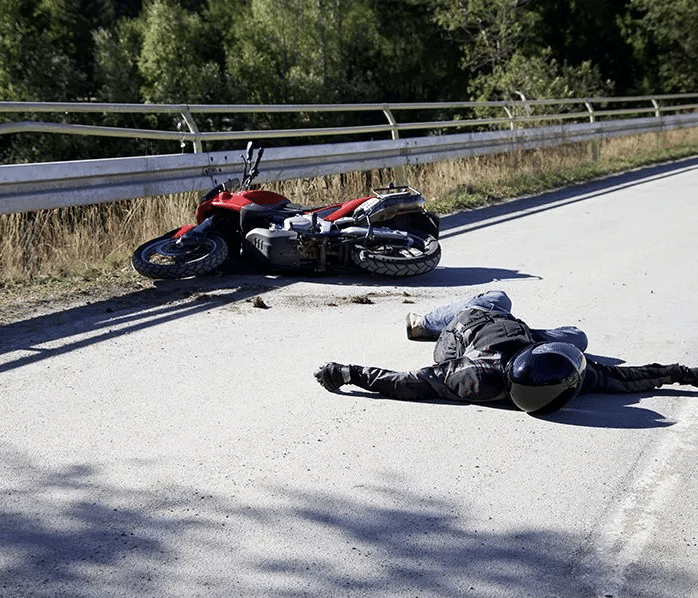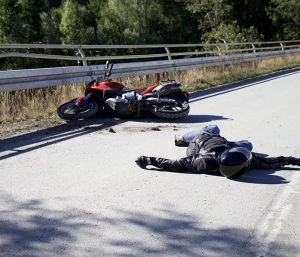 course includes both liability and damages.  A large settlement of $1 million may be inadequate where a motorcycle wreck left a brain injury survivor with $2 million in bills. Clearly, you want to win a reasonable amount to ensure your physical financial, and emotional well-being. There are many factors that ultimately drive and determine value:
Who is the plaintiff suing? Is it a likable person who makes a good appearance? Does the person testify well? Are they credible? Do they answer questions directly and clearly?
What is the human story?
How much are the defendant's insurance policy limits?
Is liability difficult or can it be proven easily?
What are the medical injuries and expenses? Have you seen medical professionals for your injuries?
What is the lawsuit venue? Which judge and court will hear this matter?
Who is the lawyer who built the case? How was the case constructed? Who will be the trial lawyer?
Liability: who is at fault in a crash?
The law provides equal protection to all people on the road, no matter the type of vehicle they are driving. Of course, this means that all drivers have the same responsibilities as well. Every motorist has a duty to watch out for the well-being of others on the road. This generally means driving in a safe and responsible manner. The reality is that driver errors lead to most crashes.
When someone fails this duty and causes an accident, they may be found responsible and be required by law to pay for any damages that may occur. The most common way for a plaintiff to collect these damages is by claiming that the defendant was negligent in their duty to care for fellow motorists.
Negligence is a legal concept that requires the plaintiff to prove a set of elements. If a claim omits any of these elements, the claim will usually fail. These elements are:
A duty to care for other people—which, as discussed above, is always present in motorcycle accidents
A breach of that duty of care by the defendant
Some kind of physical damage or harm—non-physical effects such as mental anguish can be added on as additional damages, but cannot sustain a claim on their own
A direct line of causation between the accident and the plaintiff's injuries
What damages can I recover after a motorcycle crash?
Injuries in a motorcycle wreck can be physical, economic, mental, and emotional. People may assume they will only receive compensation for direct costs, such as an ambulance trip and emergency room visit, but the ideal function of a civil lawsuit is to attempt to make the plaintiff whole again. In other words, to put them in the same position as they were before the accident happened. Under severe circumstances, this can include compensation for economic hardship as well as mental anguish. Common examples of these losses include:
Loss of income; lost wages; the value of household services; fringe benefits
Loss of earning capacity
Medical bills, Hospital Bills; medical costs and expenses in the future; the cost of future medical treatment
Loss of consortium with a spouse
Loss of enjoyment of life
Pain and suffering
Mental anguish: Emotional Distress, Emotional Trauma
To obtain the maximum settlement, an injury victim needs to communicate with their chosen attorney to obtain proper guidance as litigation is often complex. The insurance company usually only cares about its own financial interests even though it must place its policyholder's interests on an equal footing with its own.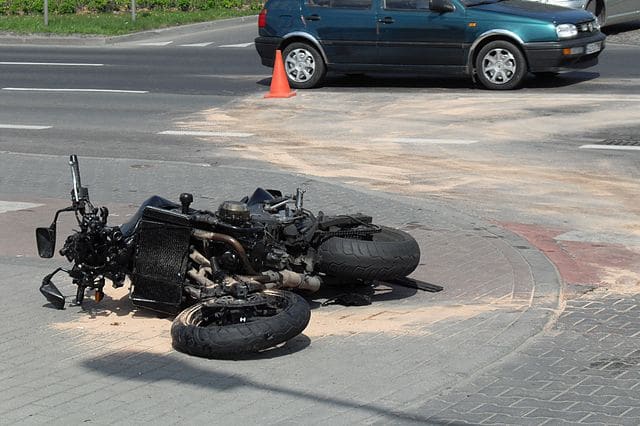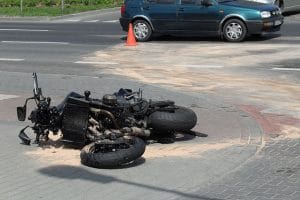 The insurer may deny an injury claim, delay a claim, or make a lowball offer that is not fair or reasonable compensation. A full and complete investigation, using experts, coordinating medical care, and building a strong personal injury case that allows you to present all of the evidence at trial is crucial.
This is why an experienced personal injury lawyer is needed to prepare the case for trial maximizing the ultimate amount of money a jury will allow in their verdict as the fair trade value of the injury.
Not every case can claim all of the above categories, but it is unusual for a motorcycle accident claim to end without some consideration for the emotional impact of the collision. A Bronx personal injury lawyer can help determine what areas of compensation may be appropriate for a claim based on the specific circumstances of the case.
How much cost a Bronx motorcycle lawyer?
Its actually completely FREE with no up front cost of any kind EVER. We never receive even 1 penny from our clients. We only WIN money for our clients.
So if you recover financial compensation for you, our legal fee is a percentage of the recovery paid at the same time the check comes in to our office from the insurance company.
The legal fee is usually 1/3rd or 33% and is set by the appellate division judges so every lawyer in New York charges the same fee. Before that insurance check arrives we pay all the expenses involved even the big ones like paying a doctor $10,000 to come to testify at trial. So its a win-win with you and your lawyer in the same boat. Our goal is always to obtain the maximum settlement or verdict because it benefits our client and our firm as well.
Can't I just settle a Bronx Motorcycle Accident claim on my own?
Unless it is an extremely minor claim where all you are seeking is a few hundred dollars in property damage such as a scratch to your bike, you really can't handle it on your own. Some people attempt to handle lawsuits on their own because they think they can save money by not paying out a legal fee to an experienced attorney.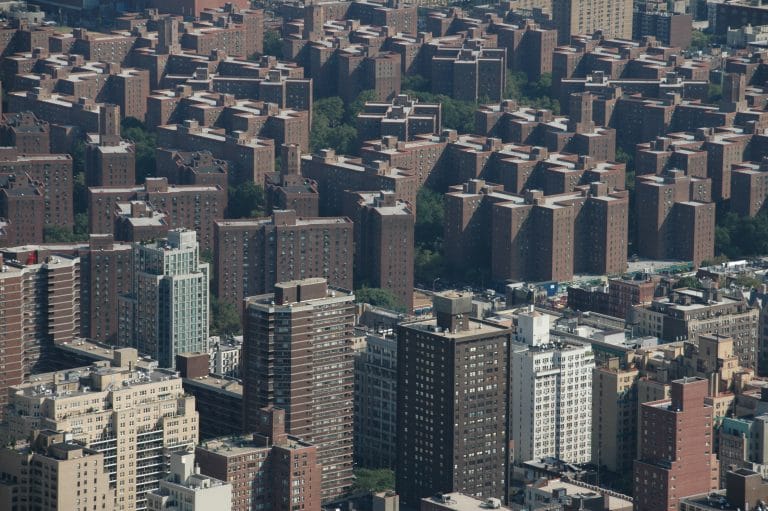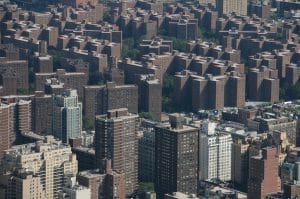 It is extremely foolish. The billion-dollar insurance companies keep tabs on what results law firms get. If they see a law firm has multi-million dollar results they adjust their future risk by placing a reserve of millions as a potential pay out. But if they see someone trying to do it themselves, the insurers know a layperson has never won a trial and is unlikely to ever do so. So they offer them a few hundred bucks as nuisance value to get rid of the headache.
We have had cases where a client was offered $500 before hiring our firm where after we got involved we turned that offer into a $1,000,000 offer to settle. That is 2000x the insurance offer to the layperson!
Further many motorcycle collisions involve complex areas of law such as product liability which are lawsuits against a manufacturer for making and selling dangerous products into the marketplace.
These types of cases cannot be handled pro se. One example was a malfunction in the steering mechanism of a motorcycle that veered it to the right pinning a passenger's leg against the side of a UPS truck. The motorcycle insurance paid $25,000 which was the full insurance limit. Our firm partnered with co-counsel and filed a lawsuit against the manufacturer of the motorcycle. We learned that they used a small company in China to make a specific part for the steering that did not abide by U.S. standards. This led to a settlement of nearly $2,000,000 (two million). Most lawyers would stop at the $25k policy.
This again shows who you hire matters! Maximum recovery to crash victims by compassionate counsel who understands the financial impact the crash has had on victims' lives.
What to do after a Motorcycle Accident in the Bronx?
While every crash has its own unique set of facts and circumstances here are some template guidelines for what to do after a motorcycle collision:
Don't be afraid to make hospital visits or go to Urgent Care if you feel pain or symptoms of injury
Take photographs of your bike, the other car's license plate, the scene of the crash. It's good to get both close ups and distance photos for context.
Exchange information.
Make sure to explain what happened to the police if you can. Never admit fault.
Do call the police. Leaving the scene of a crash is illegal.
How Can I Get Medical Care After a Bike Crash?
Unlike car accidents, No-Fault benefits are not available to motorcyclists by statute. Unless purchased as additional personal injury protection (PIP) under the motorcycle insurance policy, it will not be available.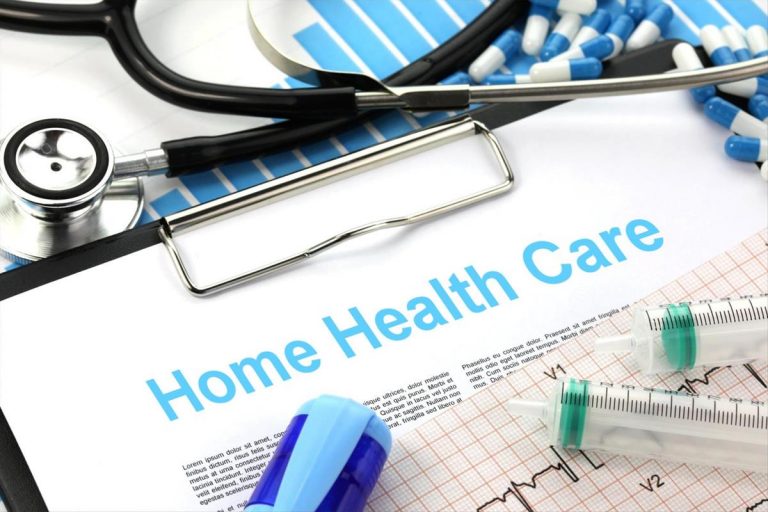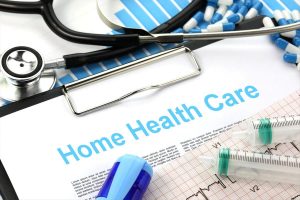 The downside is that your medical treatment may not be paid for by statute the way it is with motor vehicle crashes.  The upside is that you can sue for every medical bill, every medical expense for physical therapy, your out of pocket expenses, and recover them as part of your lawsuit against the defendants.
It is vital to keep track of all your records, bills, and receipts because this can be part of your overall financial compensation at the end of your case. A motorcycle accident attorney will contact all of your doctors to obtain not only medical records but medical billing information to submit for full reimbursement of all your losses.
In a motorcycle accident lawsuit, yor law office should add medical bills to the lawsuit by pleading all expenses in the Bill of Particulars as part of the personal injury claim:
medical expenses: hospital bills, physical therapy bills
transportation to and from medical providers
Ambulance; Emergency Medical Technician (EMT) bills
rehabilitation costs
diagnostic testing such as Xrays, MRIs, CT-scans
orthopedic surgery bills
doctor visit bills
the full extent of time spent in bed, home, hospital and fully outlining the extent of your disability
and any other medical bills
In the case of a brain injury for example, the medical bills could be astronomical. Very often TBI survivors require a slew of diagnostic testing such as 3T MRIs, Diffuse Tensor Imaging, SWI MRI, PET SCAN, brain mapping, ASL testing, and others. Victims also require different specialists such as neurologists, neuropsychologists, neuroradiologists, traumatic brain injury rehabilitation programs, etc. Please visit our brain injury page to learn more.
Our Bronx Motorcycle accident are available to help you!
F&A Injury Lawyers have law offices in the Bronx borough as well as two offices in Brooklyn (Kings County) (Bensonhurst and Bedford Stuyvesant), a Queens office, and two Manhattan offices (New York County) (midtown and downtown).
The firm handles cases in all five boroughs of New York City, Nassau County, Suffolk County, Long Island, and upstate New York often working throughout all of New York State.
Frekhtman & Associates Attorneys at Law have a proven track record of jury trial wins for injured bikers. We fully investigate and evaluate the case. We then file a lawsuit against each and every responsible party. Some cases require us to spend thousands of dollars in expenses which we are more than willing to do. We build each case brick by brick for maximum compensation for motorcycle accident survivors.
A motorcycle accident can be a physically and mentally scarring experience. In addition to any physical injuries, you may be facing months or years of mental trauma that is the result of another driver's negligence.
A Bronx motorcycle accident attorney understands the ramifications that a collision can have and could endeavor to make those effects clear in-demand packages sent to insurance companies for compensation. Take a step towards holding negligent drivers responsible for their actions, and contact an experienced law office in the Bronx.