New York City Scaffold Accident Lawyers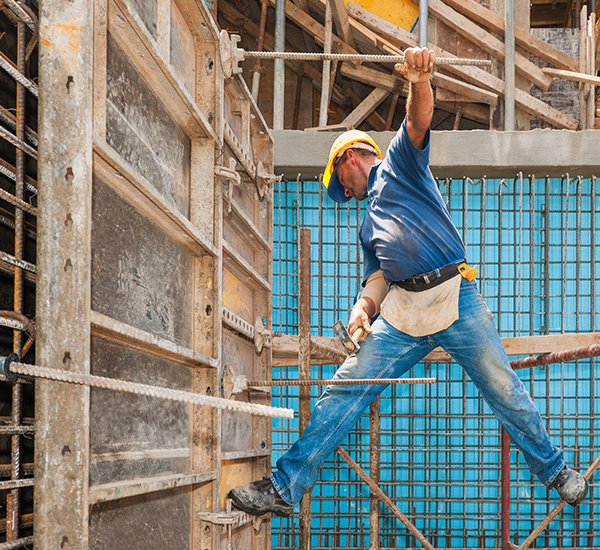 Scaffolding remains an integral part of building high-rises and performing maintenance on various structures after they've been completed. Here in New York City, countless workers must daily use scaffolds while performing their assigned tasks. They must constantly keep an eye out for large gusts of wind, heavy rains and other challenging conditions.
When construction workers fail to wear adequate safety harnesses and other devices while working on scaffolds, they can easily fall and suffer serious injuries or even death.
The scaffolding accidents noted below should remind the public and all construction site managers that they must be sure these structures are correctly erected and rechecked daily for structural integrity before any workers climb on them. Health and safety training tips are then shared regarding the proper design and use of scaffolds and how safety harnesses can help keep all workers from suffering serious falls.
Injured workers and their families routinely report many New York City scaffold accidents
Roughly 60 construction workers die each year due to falls from various types of scaffolding and another 4,500 are injured in this manner. Furthermore, 65% of all these workers must use these platforms on a regular basis while performing many of their assigned tasks.
Three people injured in Brooklyn scaffolding accident. One construction worker and two pedestrians were injured. The incident occurred surrounding a Starbucks that's located near the Borough Hall subway station at Joralemon and Court streets. The injured victims were taken to Methodist Hospital;
Lower Manhattan scaffolding collapse. This incident occurred at the intersection of Prince and Broadway. Roughly five people suffered injuries after being partially buried under some of the collapsed wood, steel and other debris;
Brooklyn worker dies after falling from scaffolding. While working on a Sunday, a fifty-eight-year old man fell a great distance to the ground. He was employed at the Prospect-Lefferts Gardens project. This victim was rushed in critical condition to Kings County Hospital where he was later pronounced dead;
Two workers were injured in the Bronx after falling 20 feet below scaffolding. While working on a 12-story apartment building, the two men fell to the ground. A witness said that at least one of the two men was bleeding from the head;
Midtown Manhattan scaffolding accident. A man in his 40s, working for Alpha General Contractor of New York on the Dream New York hotel, fell off a platform area and dropped nearly 80 feet to the ground. He was later declared dead at Weill Cornell Medical Center. In response to this incident, the York City Department of Buildings issued a full-stop work order.
Constructing scaffolds – health and safety training guidelines must be followed
Platform size and capacity. Each platform must be fully planked and be capable of supporting four (4 X) times the full load intended;
Guardrails and mid-rails. These must always be built according to precise height standards and when cross bracing is used — it must also meet strict height guidelines;
Footings. OSHA (Occupational Safety and Health Administration) requires that all key platform parts – the poles, legs, uprights and frames – must be built on proper base plates and mud sills;
Fall arrest systems. These must be afforded to all workers based on the heights at which they'll be working.
Health and safety training for proper use of scaffolds and elevated platforms
Scaffolding training. This is crucial for all new workers and must be detailed enough to include information on the proper erection and dismantling of platforms;
Positioning of tools and materials on platforms. OSHA requires that these must be kept at least 10 feet away from all nearby power lines. (The only exception to this rule is when the lines have just been rechecked and are not energized);
Hard hats must always be worn. Falling objects cause far too many annual injuries to construction workers deployed on scaffolding;
Routine (daily) inspections must be mandatory. Over time, there can be dangerous accumulations of broken welds, rusts, mud and other debris that can greatly increase fall hazards;
Replacements of wooden planks must be handled regularly. Workers must be encouraged to report splits and cracks in wood that are larger than one-quarter inch;
Scaffolds must never be used when wet. If it's raining or about to start, it's much too dangerous to allow workers to climb up and walk around when scaffolding surfaces are too slippery;
Proper cleaning of surfaces must be done daily. Workers must be required to wipe down the areas they've worked on each day – looking for structural problems – and putting away tools and loose materials to prevent accidents;
Lanyards must be used. Workers should be required to attach tough cords to the tools they're using so they cannot fall and hurt others after dropping from one platform level to another;
The bases of all scaffolds must always be constructed of very sturdy masonry blocks and bricks.
Various types of safety harnesses must be provided to most workers on scaffolds
There are many different types of safety harnesses that can help save lives when used properly. Harnesses are especially helpful to scaffold users who are seated since they still have a rather large range of motion. Workers using "sit harnesses" must be sure they fit properly around their legs and thighs without any slipping.
Regardless of the specific type of harness, they must all be fitted properly to the workers. When harnesses do not fit right, they can cause accidents. Although harnesses can be made of polyester and other unique substances, they must still meet all OSHA standards. For example, there are specific density or "thickness" requirements that all harnesses must meet to provide adequate security or stability when workers suddenly fall.
Body harnesses are basically sit harnesses with added body protection. These are especially useful for construction workers spending lengthy hours on roofs and the highest levels of buildings. When waist belts are used, they must be tight enough so that if they slip down over the hips, they'll still be fully supportive.
Although body harnesses are often fit tightly to a worker's body, they should never fit so snuggly as to restrict a worker's proper breathing. Also, additional body straps can provide extra security when adjusted properly.
If you've been seriously injured while working on a New York City scaffolding job, be sure to contact your New York City scaffolding accident lawyer right away. Since our office has spent many years handling these types of cases, we're able to fight hard to win the maximum damages available to compensate you for all your pain and suffering, lost earnings, medical expenses and other losses.