Amazon's Delivery Dangers Exposed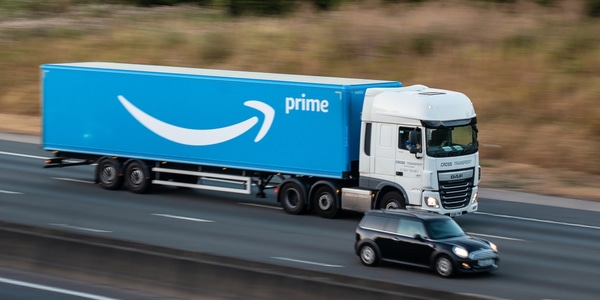 Every month, roughly 100 million people purchase goods from Amazon's online shopping portal. In fact, some experts claim that thousands of goods are sold every minute, increasing profits for a vast network of entrepreneurs. Yet sadly, all these purchases and deliveries play a direct role in the high number of Amazon delivery truck accidents.
A remarkably in-depth, September 2022 Wall Street Journal article states that Amazon regularly employed trucking companies with questionable driving safety records until recent years. This flawed decision likely played a role in many Amazon delivery van accidents. After vast numbers of innocent vehicle occupants, pedestrians, and bicyclists were seriously injured or killed – they (or their surviving family members) immediately had to seek help from an Amazon delivery truck accident lawyer in Manhattan.
Contact our team at (212) 222-1111 for your free case evaluation.
Amazon truck accidents in the Bronx, Brooklyn, and other locations
What follows is a closer look at two recent New York accidents (and several in other states) that paint a deeply troubled picture of corporate decision-making tied to delivery truck safety. Key reasons these accidents have kept occurring are discussed below, along with liability issues.
All New York pedestrians and motor vehicle occupants must learn more about protecting their legal rights in advance – before they (or their loved ones) are seriously hurt in a Bronx Amazon delivery truck accident.
Manhattan e-bike rider killed in 2023 – among other deeply troubling accidents
June 2023. An 18-year-old boy lost his life after he was hit by an Amazon delivery truck near Manhattan's Gramercy Park area. A friend of the victim told reporters that the deceased teen had grown up in New York City. Shortly after this tragedy, the NYPD said that cyclist fatalities rose 260 percent during the first six months of this year. This young man was the eighteenth cyclist in 2023 to die while riding an e-bike.
April 2022. In the northern part of New York, two people died following a major crash involving an Amazon delivery truck. The New York State police said they were asked to respond to a multi-vehicle crash on the I-90 near a town called Guilderland. A preliminary investigation revealed that one tractor-trailer and five passenger vehicles were involved. Two fatalities were declared at the accident scene.
The WSJ article referenced above also noted other tragic Amazon delivery truck accidents near New York (and elsewhere in America). One crash in Minnesota involved a driver who was carrying a crack pipe with him. Other accidents involved drivers who ignored warnings about well-known truck maintenance needs or repairs.
Contact our team at (212) 222-1111 for your free case evaluation.
Common safety concerns that often play a role in Amazon delivery truck accidents
Speed. Like most truckers, Amazon drivers often try to increase their pay by adding more deliveries to their daily schedules. However, some sources indicate that Amazon has begun installing AI sensors on many trucks – hoping to limit problems like excessive speed and distracted driving.
Driving under the influence of illegal drugs, alcohol, or other mind-altering substances. All drivers are affected by these substances which can slow down cognitive thinking and complicate moments of critical decision-making. Amazon truck drivers' physical reflexes are also frequently impaired by these substances.
This affects nearly all truck drivers who shun getting adequate sleep or take on too many back-to-back driving shifts.
Rear-end collisions caused by reckless Amazon drivers on crowded freeways and neighborhood streets. These types of collisions often happen when a driver is searching for a place to park near a customer's home or business.
Lack of familiarity with delivery area roadways and back streets. Truck drivers who must constantly stop and look more closely at unfamiliar highway exit numbers or street names (and curb addresses) are much more likely to cause collisions.
Making careless left-hand turns at crowded intersections
Being pressured to get Amazon products to Prime members in just a few hours. Most of us still recall all the bad accidents that occurred long ago when pizza delivery drivers were first forced to get their food orders to customers within an hour. That same dynamic keeps Amazon truck drivers under tremendous pressure.
Failing to run regular driving record checks on all drivers. New DUI arrests and careless driving tickets should be checked every six months so that Amazon's worst drivers can be quickly taken off the road. This should not be the sole responsibility of separate trucking companies. No one wants to buy goods from careless sellers.
Steps to take (or avoid) after being hit by a Manhattan Amazon delivery truck driver
Call 911 and ask that a police officer, state trooper, or other law enforcement official be sent immediately to the accident scene. Reports issued by these officials help us document the names of the parties involved and the officer's reflections on how the accident likely occurred.
Try to accurately obtain the driver's name. If it won't threaten your immediate need for medical treatment, be sure to request the full name and address of the Amazon van or truck driver. Obtaining correct information about this person's identity is always crucial. Also, ask to view his/her driver's license so you can write down the name of the state that issued it, the DL number, and its expiration date.
Sadly, many people who have had multiple accidents will do everything they can to distract you while you're trying to obtain this information — in hopes that they'll never hear from you again. If allowed, take a photo of the truck driver's license.
Politely insist that the driver provide you with the name of his/her employer. If the person says it's Amazon, consider asking again. Why? Because whenever possible, Amazon tries to hire independent trucking companies to deliver its products. This can help protect the company from accepting financial responsibility for most accidents. Also, request the full name of the individual's immediate supervisor. Finally, make it clear that you also need the phone number that the driver will be using to report the accident, so you can contact the company when filing your claim.
Look around for witnesses and ask if you can write down their names and contact information. Let them know that positive witness testimony can make a major difference in an accident victim's ability to win their lawsuit — and fully cover all their medical expenses, lost earnings, and loss of damaged property.
Take photos of the accident scene, each vehicle's license plate, and any nearby stores. Every photo you take can help us later locate some of the best witnesses you may not have seen (or spoken to) because you were immediately sent away by ambulance. Also, photos can document where each vehicle wound up after the collision took place. This information can help us prove liability.
Do not sign any statements unless a police officer simply asks you to sign a form (that does not state who you believe caused the accident). However, if you believe the accident scene itself clearly indicates that you were the innocent party, you are free to note that fact alone. Volunteering too much information at an early stage can prove problematic since many accident victims are too traumatized to share accurate memories.
Once you reach the hospital, be sure to keep all the clothing and shoes that you were wearing when you were injured. This evidence can help us prove all that you suffered.
If you have suffered serious injuries after an accident caused by someone else's negligence, you need to contact our Amazon delivery truck accident law firm. We will carefully investigate all the facts of your case, review all your medical records, and then fight hard to win the maximum compensation available to you. We want every client to fully recover from all lost wages, pain and suffering, medical expenses, and other losses.
Contact our team at (212) 222-1111 for your free case evaluation.
Frequently Asked Questions
Q1: Why are there so many Amazon delivery truck accidents?
Amazon delivery truck accidents are often due to factors such as speed, fatigue, substance abuse, and pressure to deliver goods quickly. Additionally, lack of familiarity with delivery areas and insufficient checks on drivers' records can contribute to the high number of accidents.
Q2: What should I do if I'm hit by an Amazon delivery truck?
You should immediately call 911, obtain the driver's information, look for witnesses, take photos of the accident scene, and avoid signing any statements. It's also important to keep all the clothing and shoes you were wearing at the time of the accident.
Q3: Can Amazon be held liable for delivery truck accidents?
While Amazon typically tries to avoid liability by hiring independent trucking companies, it's possible to hold them accountable if it can be proven that their unrealistic driving standards contributed to the accident.
Q4: What kind of compensation can I expect after an Amazon truck accident?
The compensation you can expect will depend on the severity of your injuries, medical expenses, lost wages, and other losses. Our law firm will work tirelessly to secure the maximum compensation available to you.
Q5: How can a lawyer help me after an Amazon truck accident?
A lawyer can help by investigating the facts of your case, reviewing your medical records, and fighting for your rights. They can also help prove the driver's negligence and Amazon's potential liability.
Contact our team at (212) 222-1111 for your free case evaluation.