Tractor Trailer Accident Lawyer Discusses Semi in Rear-end Collision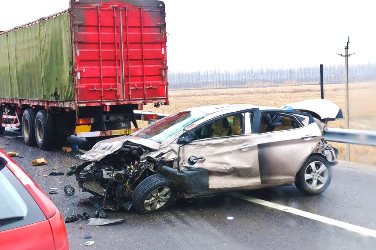 A semi tractor-trailer that allegedly failed to stop in time in slowing traffic set off a chain reaction collision on the Cross Bronx Expressway. The accident happened at approximately 5:45 a.m. on Tuesday, December 27, in the northbound lanes near Webster Avenue says a tractor trailer accident lawyer at the F&A injury law firm in Manhattan.
Accident Details
An NYPD highway inspector said that a big rig stopped in the middle lane and a Ford pickup truck pulled up behind it. Then, another 18-wheeler crashed into the Ford pickup truck and a Toyota Corolla. Ultimately, the pickup truck was wedged under the second semi and the Toyota was the front end of the Toyota was on the center divider.
Multiple Injuries and Fatalities
According to ABC 7 News, there were five people in the pickup, and three did not survive. Emergency personnel took the two other individuals to Saint Barnabas Hospital in serious condition. The Toyota's driver also sustained injuries considered serious, while the occupants of the second big rig suffered non-life-threatening injuries.
Although the cause of this particular accident remains under investigation, fatal rear-end collisions  involving semis have been cited as one reason to make automated braking and forward collision mitigation (FCM) systems mandatory on large trucks. Such systems may mitigate the adverse effects of rear end collisions in certain situations.
When a person is injured or killed in a rear end collision, it may be possible to seek compensation in the state's civil courts. It is often possible to seek monetary damages for certain medical expenses, pain, suffering and lost wages. Survivors of those killed often seek compensation for loss of companionship as well.
If you or a loved one is a victim in a truck collision, it is possible to discuss the matter with a tractor-trailer accident lawyer at our firm free of charge and without obligation. Our firm recently settled a case where a stopped tractor trailer was rearended by a private vehicle resulting in serious injuries to our client including herniated discs requiring lumbar fusion surgery. Despite the difficult liability, we were able to settle the case for $2,400,000.00. To learn more, please contact us.