Insights on Bronx car accidents leading to Spinal Injuries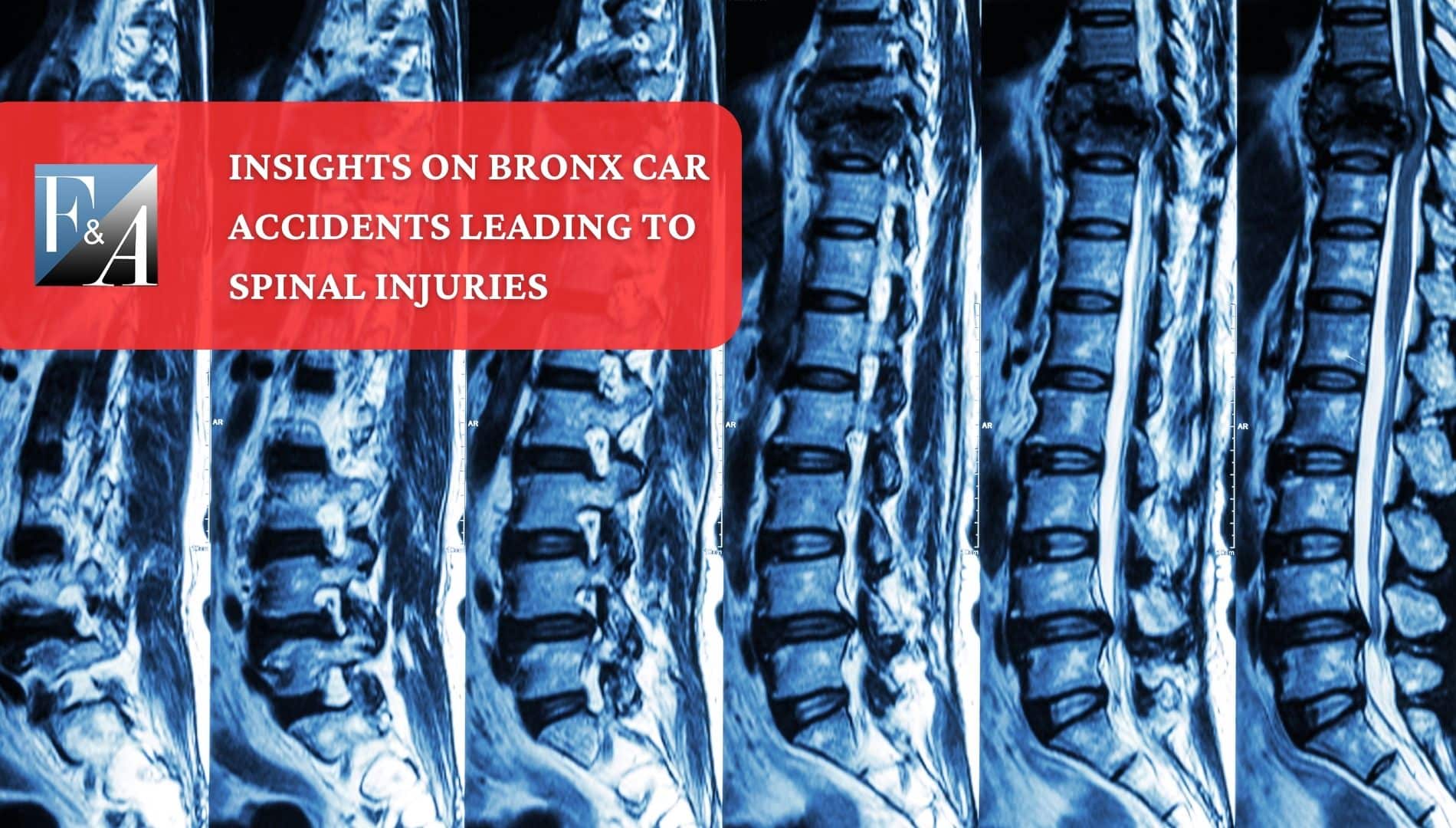 Table Summary of Article
| Section | Description | Link |
| --- | --- | --- |
| Bronx Spinal Cord Injury Caused by Car Accidents | Overview of spinal cord injuries in car accidents | Read More |
| Additional Facts and Statistics | Statistics on car accidents causing spinal injuries | Read More |
| Serious Bronx Car Accidents | Examples of recent serious car accidents in Bronx | Read More |
| Useful Terms and Definitions | Definitions of spinal cord injury terms | Read More |
| SCI Symptoms to Watch For | Symptoms indicating a spinal cord injury | Read More |
| Factors Affecting Settlements | Factors influencing spinal cord injury settlements | Read More |
Bronx Spinal Cord Injury Caused by Car Accidents
Every week, more car accident victims suffer serious spinal cord injuries. While many of us assume these collisions involve other vehicles, only 43 percent of them occur that way. About 26% of all accidents involve hitting fixed objects. The remaining crashes involve pedestrians, people using bicycles and other forms of transportation – or non-collisions like rollover accidents.
Additional facts and statistics involving serious car accident injuries
Sixty-three (63%) percent of the harm suffered in car accidents occurs when two or more vehicles are involved. Obviously, having a heavy object hit you can crush many of the bones in the cervical, thoracic, or lumbar portions of the spinal column. Yet oddly enough, vehicle accidents involving fixed objects, pedestrians, and non-collisions account for over 50 percent of all fatalities.
What follows is a closer look at several serious Bronx car accidents, specific types of spinal cord injuries (SCIs) often caused by car collisions, and a list of common symptoms that victims must watch out for so they can quickly obtain timely SCI diagnoses and treatments.
Serious Bronx car accidents — or collisions involving Bronx residents
August 2023. According to CBS news, when a careless BMW driver decided to start doing doughnut maneuvers on a street in the Bronx one morning, it was soon hit by a Jeep from behind. Eight pedestrians were injured. All of them were taken to Jacobi-Albert Einstein College of Medicine for treatment.
May 2023. A Bronx woman who decided to "drag race" on the Whitestone Expressway was criminally charged in the Queens Supreme Court in early August. While she drove, she hit and allegedly killed an Uber passenger. Melissa Rodriguez-Lopez has been charged with murder, manslaughter, and other crimes. At present, she's facing a prison sentence for up to 25 years to life. This tragic accident occurred while this woman was allegedly speeding at about 123 miles per hour.
November 2022. A woman traveling on the Cross Bronx Expressway died after a crash involving two tractor-trailers and her own vehicle. Once flames developed, they fully engulfed her car, causing her to die at the scene of the accident.
Useful terms and definitions related to Bronx spinal cord injuries
Quadriplegia. This term comes from the Latin word meaning "four." This condition is also referred to as tetraplegia – a form of paralysis affecting a person's torso and all four limbs. Those who suffer from this type of spinal cord injury often battle a fair amount of neck region paralysis. Sadly, those who have this type of SCI cannot move their bodies below their necks. It's always important to file a quadriplegia auto accident claim so that you can potentially receive enough money to cover all your future medical treatment and daily survival needs.
Paraplegia. Those afflicted with this type of spinal cord injury have difficulties moving the lower portion or trunk of their bodies, as well as their pelvic organs. However, these patients can usually still control many useful movements of their arms and hands. Paraplegia caused by negligent drivers is not only inexcusable, it always negatively affects the remaining years of the accident survivor's life.
Incomplete spinal cord injuries. Individuals assigned this medical status can normally control their body or motor movements below the area or level of their spinal cord injury. As their doctors will explain to them, there are multiple types or degrees of "incomplete" SCIs.
"Complete" spinal cord injuries. When patients have this type of medical limitation, they can no longer control their body movements below their spinal cord injury level. In other words, they cannot experience any types of sensory sensations below that level.
SCI symptoms that all survivors of serious car accidents should review
Since most car accident victims remain in a state of shock for several hours or longer, they must keep checking to see if any of the following symptoms develop since they are often signs of a spinal cord injury.
All car collision survivors should immediately go to emergency rooms after major accidents since missing any of the following signs can result in permanent or life-threatening injuries.
Balance issues. If you're finding it difficult to walk steadily within the first few hours of being in a car accident, that's often a sign that you may have sustained a serious spinal cord injury.
Poor limb coordination. This type of weakness or paralysis in various parts of your body is often an early SCI symptom.
Odd tingling sensations in various parts of your body
Back pain that's often accompanied by an odd or unpleasant feeling of pressure in the head, shoulders, or neck region. When patients fail to allow doctors to quickly address back injury pain and suffering, they may never fully recover, even if they later pursue extensive rehabilitative care and treatment.
A sudden onset of unfamiliar breathing problems
Bladder and bowel control issues that suddenly appear and are difficult to stop
Unfamiliar or unpleasant body sensations. Some recent car accident victims may start complaining about no longer being able to experience a sense of touch — or any feeling of hot or cold sensations.
Simple coughs must be carefully observed since they may soon increase and make it much harder to clear different types of lung secretions
Intense nerve pain. When spinal cord nerve fibers have been damaged, they can cause patients to experience strong or stinging body sensations.
Unexplainable and new body spasms or reflexes that are not easily controlled
New difficulties with sexual functioning. In limited cases, some females may start experiencing new fertility problems.
Friends and family members must always urge recent car accident victims to pursue immediate emergency room diagnostic workups. Failing to do so can allow hidden spinal cord injuries to greatly worsen – while lowering the chances of successful rehabilitative therapy efforts in the future.
Key factors that can affect your spinal cord injury car accident settlement
The precise nature and extent of your injuries. When your Bronx car accident injuries are so severe that you must undergo multiple surgeries and other treatments, the settlement amount (or jury verdict) you'll probably receive will likely be generous.
The amount of time you are forced to take off from your job while healing and receiving treatment. While some spinal cord injury (SCI) patients may only require two or three months of specialized treatments and rehabilitation, others may be diagnosed with forms of quadriplegia or paraplegia that may prevent them from ever returning to any form of work. All these financial realities can directly increase the amount of money you should receive if you can no longer support yourself and your family.
The ongoing costs, if any, for daily home care to help you perform basic personal caregiving tasks you can no longer handle on your own. These might include cooking for yourself, getting dressed and out of bed, washing your clothes, and managing a variety of basic hygiene tasks.
Insurance policy limitations. Unfortunately, many people fail to carry adequate car insurance. Depending on your own uninsured or underinsured motorist coverage, you may not be able to fully recover all the funds you need to live on in the future.
The extent of your ongoing, daily physical suffering. We often urge our clients to keep daily journals. These help them document the types of tasks they used to do regularly that they can no longer perform because of their ongoing pain and suffering. We are always prepared to present this type of evidence on your behalf.
The quality of expert testimony we're able to obtain while building your case. When necessary and justified by a spinal cord injury case, we can hire financial experts to help us prove what your future medical treatment expenses are likely to be for the rest of your life. We also may need to hire accident reconstruction experts to help us document that multiple defendants must be held liable for your injuries — and not just the individual who was driving the car that hit you.
The extent and quality of your medical treatment records. Throughout the time that we represent you, we'll be requesting updated medical records. One thing we always look for is the thorough nature of the treating physicians' notes. We check to be sure all treatments and rehabilitation programs that you've completed are fully noted. Insurance companies representing the defendants need to understand the comprehensive nature of your losses — and that often depends on the quality of the medical records that are being kept.
Whether you're entitled to recover for loss of consortium or inability to fully engage in intimate relations with your spouse.
Mental anguish may be linked to any physical disfigurement, depression, or anxiety about your future since you can no longer support yourself. These types of damage awards can help pay for ongoing psychological therapy sessions that can help you and your family members cope with all the changes in your lives.
Our law firm attorneys fight hard to make sure the settlement amounts (or jury verdicts) we request on your behalf can help you gain new hope while rebuilding your future.
If you have suffered serious injuries after an accident caused by someone else's negligence, you need to contact our New York City spinal cord accident injury law firm. We will carefully investigate all the facts of your case, review all your medical records, and then seek the maximum compensation available to you. We want every client to fully recover for all lost wages, pain and suffering, medical expenses, and other losses.
FAQ Section
What are the most common causes of spinal cord injuries in car accidents?
Spinal cord injuries in car accidents are often caused by collisions with other vehicles, fixed objects, or non-collision incidents like rollovers.
What percentage of car accidents involve hitting fixed objects?
About 26% of all car accidents involve hitting fixed objects.
What types of spinal cord injuries are common in car accidents?
Common spinal cord injuries include quadriplegia, paraplegia, and incomplete, and complete spinal cord injuries.
What are some early symptoms of spinal cord injuries after a car accident?
Early symptoms include balance issues, poor limb coordination, odd tingling sensations, and back pain.
How can spinal cord injuries affect a person's life?
Spinal cord injuries can lead to paralysis, loss of sensation, and significant changes in daily life and mobility.
What factors affect the settlement amount in spinal cord injury cases?
Factors include the nature and extent of injuries, time off work, ongoing care costs, insurance policy limits, and the quality of medical records.
What is the importance of immediate medical attention after a car accident?
Immediate medical attention is crucial for diagnosing and treating spinal cord injuries, which can worsen if left untreated.
How can a spinal cord injury law firm assist victims?
A spinal cord injury law firm can help victims seek maximum compensation for losses, including medical expenses, lost wages, and pain and suffering.