New York City Burn Accident Lawyers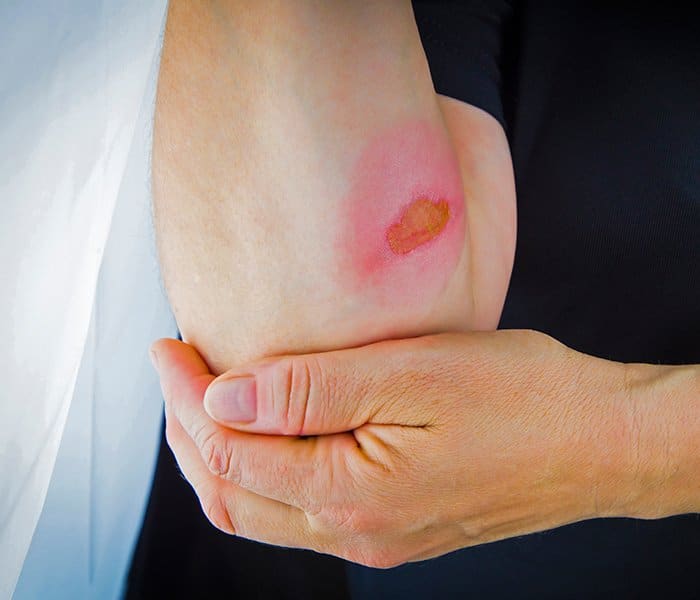 As the nation's largest and perhaps most diverse metropolitan area, New York City daily offers its residents and visitors vibrant business districts, beautiful parks and waterways, advanced educational facilities and entertainment venues. Yet despite these many offerings, there are far too many annual fires.
In January 2018, the city's fire commissioner stated that the most recent fire statistics indicate an increase in fires throughout most of the boroughs. Seventy-three (73) civilians lost their lives in New York City fires during 2017. New fire safety measures are clearly needed. During the prior year, federal surveys reveal that over 480,000 Americans required fire injury medical treatment.
Our experienced New York City burn accident lawyers are here to help you
If you've personally suffered serious burns in any type of fire, you know how difficult it can be to obtain the best treatment for burns while trying to keep all your regular bills paid. Family members of burn survivors often find it difficult to choose between all the city's different burn treatment centers without proper guidance.
Fortunately, the burn injury lawyers at Frekhtman & Associates are highly experienced and can answer all the questions you may have about filing a burn injury lawsuit. Once we've accepted your case, we'll carefully investigate all the facts — so we can help you obtain the maximum injury settlement (or trial verdict) you deserve to fully compensate you for all your losses.
Since many clients tell us they greatly worry about ongoing treatment decisions, we've provided information below about New York City's major burn treatment centers – along with facts concerning the types of surgical and rehabilitative care they offer. Rest assured that we'll carefully review all your medical records and speak with medical expert witnesses on your behalf while helping you move through the various stages of your burn injury lawsuit.
New York government website's list of state burn centers
While many hospitals offer a limited level of initial care to burn injury victims when they first arrive in emergency rooms, those without state-of-the art equipment often refer burn patients to New York's Department of Health burn centers after they've been stabilized so they can obtain specialized care. Here's a list of the NYC-area burn centers.
Jacoby Medical Center1400 Pelham Parkway South
Bronx, NY 10461
Harlem Hospital506 Lenox Avenue
New York, NY 10037
New York Presbyterian/Weill Cornell Medical Center525 East 68th Street
New York, NY 10065
Staten Island University Hospital475 Seaview Avenue
Staten Island, NY 10305
All these hospitals are specially-equipped to meet your needs as you seek the various forms of surgical care and long-term rehabilitation serious burn injuries require.
The following information reviews surgical treatments, daily medications and wound healing tasks and goals for burn injury rehabilitative care.
Medical and Surgical Treatments for Burn Injuries
After emergency room doctors conduct a thorough exam of all your burn wounds, they are likely to perform one or more of the following procedures.
A thorough cleaning and remove dead skin from wound. Once this debridement is complete, they may also use water-based treatments like ultrasound mist therapy to further clean the wound and stimulate the health of all remaining tissues;
Provide adequate breathing assistance. Fire victims who've been burned on their necks and faces may need immediate help to prevent their throats from swelling shut;
Intravenous fluids and tube feeding. Adequate fluids must be administered to prevent both dehydration and possible organ failure. Since burn victims often go into overdrive – using up all available nutrition to heal their wounds – ample food and other nutrients must be administered to them through feeding tubes;
Pain medications must be provided in proper doses. A pain management physician will evaluate your current needs and keep checking your requirements throughout each treatment stage;
Blood-flow treatments, skin grafts and plastic surgery. Each one of these medical procedures may be required, depending on the seriousness of your burns. Blood flow issues can often arise when a burn scar completely wraps around a limb or covers the chest area. Skin grafts are frequently performed after healthy skin is harvested from other parts of your body. Although it may be discretionary, cosmetic surgery can play a crucial role in restoring greater function to burn areas and help patients improve the appearance of their burn scars;
Once hospital and early outpatient treatments are completed, various forms of additional rehabilitative care for your burn wounds may be suggested to you.
Medical monitoring of your required rehabilitation will continue
After you've regained improved ROM (range of motion) in parts of your body (once major swelling has gone down), your rehabilitation team will help you improve your muscle strength and flexibility.
Aerobic exercise, resistance training and other specialized activities can aid rehabilitation by addressing the following physical needs.
Improved respiratory functioning (lung exercises are helpful)
Heightened cardiovascular performance
Better coordination, balance and steady movements
Throughout different stages of rehabilitation, you'll benefit from working with physical therapists, social workers and psychologists.
Family, close friend and formal caregiver training is also important to your recovery
Few survivors of serious burns can easily progress through long-term treatment and rehabilitation without family members (or others) who are willing to learn how to help you with wound dressings and general wound care treatment. Be sure to ask your medical burn care team how you can include these individuals in your long-term recovery process.
Finally, if the burn center where you're treated doesn't currently offer a regular biweekly or monthly burn survivor support group, ask them to start one since this type of ongoing therapy can play a very meaningful role in your long-term recovery process.
The New York City burn injury lawyers at Frekhtman & Associates have the lengthy experience required to prepare your case for settlement negotiations (and trial). Our goal is to help you obtain full compensation for all your pain and suffering, medical expenses, lost earnings and other losses. Your burn injury lawsuit will clearly state all the facts and evidence justifying the maximum damages available.