Midtown Manhattan Motorbike Accident: Uncover Your Legal Rights & Maximize Compensation Today!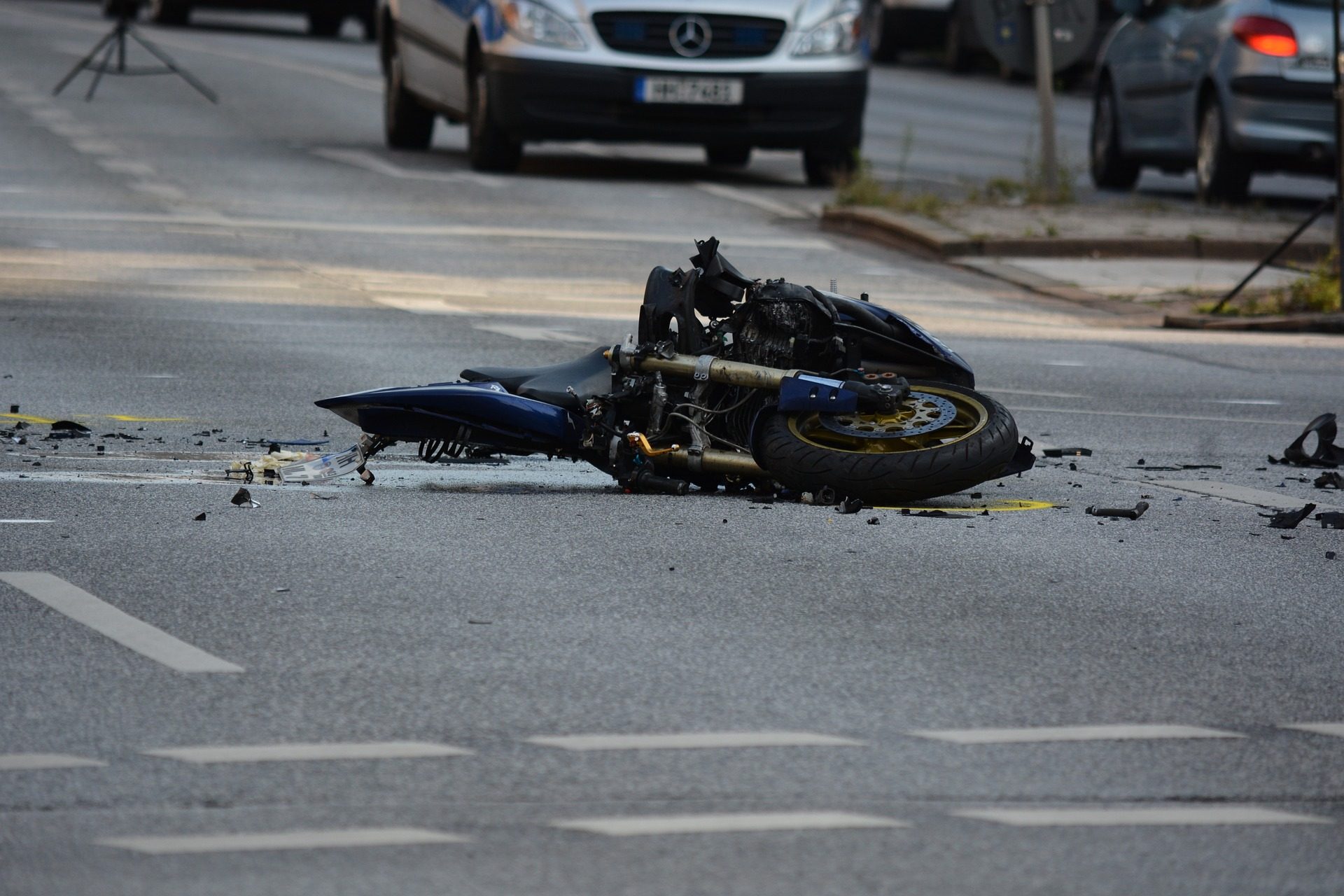 Understanding Your Legal Rights After a Motorbike Accident in Manhattan's Midtown
If you drive within the speed limit, you can often enjoy riding your motorbike through Midtown Manhattan. While Times Square offers some great people-watching, you can also meet friends for an excellent meal in an area restaurant.  During other visits, after you've found a safe place to park, you can either catch a Radio City Music Hall performance or check to see if any TV shows are being taped in Rockefeller Center.
Cautious riding is crucial since at least one government study has revealed that the motorcyclist fatality rate within New York City is twice as high as it is for those riding elsewhere in this state. Always be sure to wear a brightly colored helmet or jacket since high traffic visibility can help save your life.
Contact our team at (212) 222-1111 for your free case evaluation.
What follows is a brief overview of the basic legal rights you must quickly act to protect as a motorbike rider after an accident, crucial safety practices, and a list of the most common injuries you're likely to suffer after being hit in this highly congested area. Additional information explores the range of compensation you're likely to receive once we've successfully settled your lawsuit or won a favorable trial verdict.
Early steps we take to protect your legal rights after we accept your accident case
We investigate the accident scene, searching for all evidence that can help us prove your version of what events directly caused the collision. When you postpone hiring a lawyer, you put this critical fact-finding mission in jeopardy. We also try to locate accident witnesses who will hopefully share their positive, truthful testimony on your behalf.
We request any police report created, based on the accident. After any motorbike accident, always request that the police or another major law enforcement official visit the scene of the collision, regardless of how serious people's injuries might appear. As most attorneys and accident victims will tell you, some of the worst internal injuries – as well as disturbing head and neck damage – may not become fully evident for days or even weeks. Having a written record that states what the police believe caused the accident, can become crucial to how we prove how each of your injuries developed.
We ask all treating medical professionals, including ambulance EMTs and ER doctors, to provide us with their treatment notes. While it's their job to properly diagnose and treat you, they may sometimes make notes as to whether your viewed symptoms and physical damage could have occurred in a manner consistent with your description of what directly caused the collision.
It's also our job to protect your legal rights by carefully reviewing these records as soon as possible – so we can open honest and fair settlement negotiations with the defendant's attorneys and insurance agents. When it becomes necessary for you to share basic information about yourself with these individuals, we'll be sure to properly prepare you. When these representatives are blatantly dishonest, they'll try to prove that you,  alone, fully caused the accident.
Should you need basic guidance about which rehab clinics have worked well with past clients, we can often provide you with choices. (Sometimes, your own doctors cannot readily recommend a healthcare provider in your neighborhood.) As you might imagine, carefully documenting all the legitimate care and treatment you obtain is also a key element of our building a strong Midtown Manhattan motorbike case on your behalf. It's never wise to try and manage one of these cases on your own. You need to concentrate on fully healing while we protect your rights.
Most common physical injuries reported by our Manhattan motorcycle accident clients
Traumatic brain injuries. These frequently range from minor or moderate concussions to such severe head trauma that multiple surgeries may be required. Rehabilitation services for major head injuries can last many months – or in the most extreme cases – continue periodically throughout a patient's life.
Major cuts, lacerations, and different types of skin burns. Unfortunately, the most seriously injured motorbike accident survivors can require extensive burn treatments. However, others may just need a very careful cleaning of their wounds, followed by regular changes in sterile bandages for days or weeks.
Amputations may become necessary. If a body part is not directly crushed or severed, it may still have to be removed later due to severe infections and other dangers.
Spinal cord injuries. Far too many of these can lead to temporary or permanent paralysis. Some patients may need extensive physical therapy to help them as they relearn how to walk or manage daily hygiene tasks. In some catastrophic cases – like the most serious brain injury lawsuits – the clients may not be able to return to work. When that happens, we make sure to employ all the best experts to help us estimate your homecare needs and expenses for the rest of your life.
Fortunately, many client injuries do not wind up being permanent. Regardless of the outcome in your case, you can trust our lawyers and staff to interact with you and your family in a caring and thoughtful manner.
Contact our team at (212) 222-1111 for your free case evaluation.
What range of Midtown Manhattan motorbike accident settlement amounts is possible?
Our experience has taught us that the clients who tend to receive the highest settlement amounts or jury verdict awards – after our fees and expenses are subtracted – are those who have required the most intensive, long-term treatments. So, if your doctors decided that you needed two major surgeries followed by lengthy rehabilitative care, you may receive a very fair or generous sum.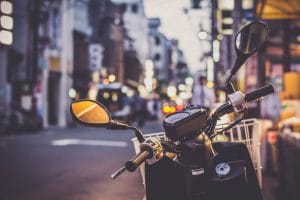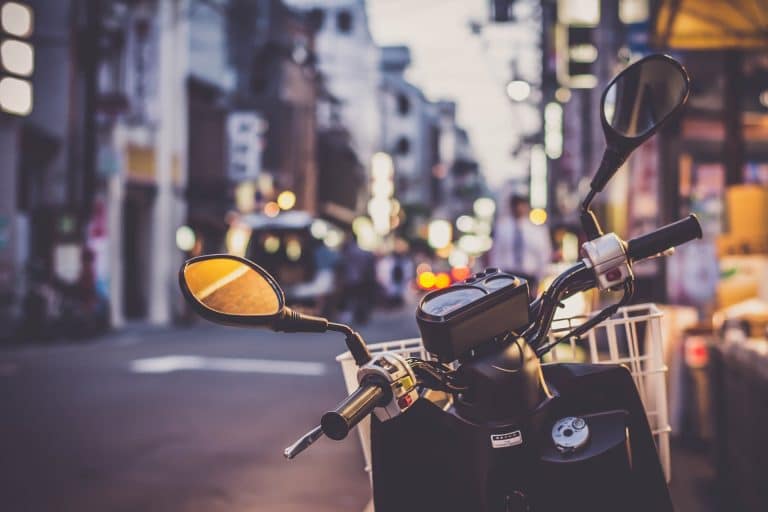 These amounts often vary between about $8,000 and $80,000 dollars. Slightly higher or lower amounts may be offered if you're able to return to work fairly soon – or if the defendant's lawyers are able to prove to a court that you were comparatively negligent in causing the motorbike collision.
Of course, what we can recover can also be influenced by such other factors as the special terms contained in the defendant's insurance policies – and whether you were a high-earning employee at the time that you were hit and severely injured. Your assigned lawyer will fully explain all the pertinent types of extenuating circumstances that may affect your case.
Cautious safety practices can save the lives of Midtown Manhattan motorbike riders
While you do have the legal right to equally share the streets of this borough with other motorists, it's always wise to sharpen your driving safety skills by completing a motorcycle training course. Even highly experienced motorbike riders can pick up a few defensive driving techniques that can make or break their chances of either avoiding or surviving a collision.
Always exercise special caution when riding your motorbike under the following special circumstances.
Never try to ride your bike on streets covered with any type of loose gravel or rocks
Be prepared to drive at a moderate speed so you can stop quickly – or drive around any potholes – or odd seams or grooves – that appear in the road. Try to make a mental note of where unusually large potholes are located so you can report them to the city for repairs as soon as possible.
Always obey all traffic lights and signals and never speed through any stop signs or red lights. While you do have equal rights on the roads – you do not have the right to disregard the safety of others by violating any traffic safety laws.
Slow down when approaching busy intersections and be prepared to yield the right of way. Far too many Midtown Manhattan motorbike riders are seriously injured or killed in busy intersection accidents.
Find an alternate mode of transportation whenever possible when rain, snow or sleet are falling on city streets.
Stay on the lookout for stray animals, young children, and others most prone to suddenly run out in front of you.
Slow down while traveling across railroad tracks, steel deck bridges, sewer grates, and manhole or "access" covers. Flaws on any of these surfaces can easily cause you to fall.
If you have suffered serious harm after an accident caused by someone else's negligence, you need to contact our Midtown Manhattan motorbike accident law firm. We will carefully investigate all the facts of your case, review all your medical records, and then fight hard to win the maximum compensation available to you. We want every client to fully recover for all lost wages, pain and suffering, medical expenses, and other losses.
Contact our team at (212) 222-1111 for your free case evaluation.