Have You Been Involved in a Auto Accident In Queens, NY?
Between March 2014 and April 2015, an estimated 65,896 vehicle collisions have happened in Queens. That's almost 30% of all car accidents that happen in New York City all year round. In fact, Queens experienced an average of around 5,000 collisions each month, with only a slight drop in numbers between March and April in 2015.
This has gotten our Queens car accident attorneys worried about their fellow citizens, but it has also given them an impulse to work harder to ensure the people who are victims in car accidents receive the compensation they need.
The average daily traffic volume in Queens has been found to be at its high between 75,000 and 300,000. This, along with the fact that Queens had the most motor collisions in April 2015 (2,452), shows you just how likely it is that you might actually be involved in a car accident.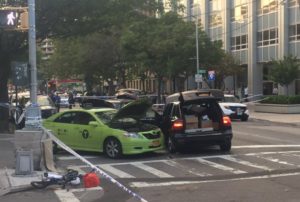 MAGNITUDE OF THE CRASH PROBLEM IN QUEENS
Every week, because of a traffic-related crash on a Queens County road, an average of:
2 people die
11 people are hospitalized
151 people are treated in a hospital ER department
Every year, crashes on Queens roadways result in:
$30.4 million in hospitalization charges
Approximately $2.7 million charged to publicly funded programs, such as Medicaid, Medicare, VA health care, and corrections.
$20.6 million in Emergency Department charges
8,341 Emergency Department Visits
Statistics taken from the Department of Health for New York
At Frekhtman & Associates, we have been helping Queen's accident victims since 1999 with a focus on treating each client like family. At our law firm, a client is never just another case or file number, but a part of our family who we treat with compassion and respect.
Car accident causes that have the highest percentage of resulting in injuries
Our Queens car accident attorneys have found out that the following causes of car accidents in New York City have the highest chance of causing serious injuries:
Passenger distractions – Up to 67.3% of accidents resulted in serious injuries.
Not enough distance between cars – Around 62.5% of accidents resulted in serious injuries.
Glare – Up to 44.6% of accidents resulted in serious injuries.
Defective headlights – Up to 36.4% of accidents resulted in serious injuries.
Disregard for traffic control – Around 33.6% of accidents resulted in serious injuries.
Our Queens car accident attorneys are your best bet if you suffer any injuries in a vehicle collision. Many people make the mistake of believing that a car accident cannot cause too much harm. Well, they couldn't be more wrong.
---
Most Common Car Accident Injuries in Queens
If you are involved in a vehicle collision, you are at risk of sustaining the following injuries:
Back injuries – Car accidents can cause traumatic back injuries that can result in sprains, strains or even fractures. The danger with back injuries is that even the most serious of them can take some time to manifest themselves. This is why it's vital to get immediately examined by a medical professional if you are in an accident.
Head injuries – A serious vehicle collision can cause closed head injuries which result in concussions. In some unfortunate cases, the damage can be so bad the victim suffers traumatic brain injuries.
Face injuries – Keeping your face safe during a car accident is almost impossible. If you're lucky, you'll only sustain a couple of cuts and bruises. But if you're not, there's a chance the injuries can be as bad as fractures, lacerations and serious dental damage.
All of these injuries can put a strain on your day-to-day life, and even cause you to develop mental complications, as your appearance will be significantly impacted. Moreover, your career might take a hit as well, as you will have to take time off work to recover.
Our Queens car accident attorneys understand this, and they know that the sooner you get the care you need, the sooner you will have a chance of recovering.
This is why they do their best to check the eligibility of your case and make sure it stands a chance in court. This way, you get the compensation you deserve and will be able to afford the care you need.
How Much Does an Auto Accident Lawyer Cost?
With every personal injury and accident case, Frekhtman & Associates does not charge an upfront fee. We work off of a contingency basis, which means you pay us anything unless we win your case and recover compensation for you.
Feel free to contact us. There is absolutely no obligation. We will be happy to discuss your case, tell you your rights in the matter, and give you our opinion of what the next steps should be for you to be able to get best compensation possible.
Let an Experienced Queens Car Accident Lawyer Handle Your Case
Car accidents change people's lives. In an instant, you might not be able to work. You might not be able to walk. You might not be able to do many of the things you take for granted. And since you're not working while you're recovering, bills can add up fast – for medical expenses, car repairs and all the other bills you normally pay every month.
And just because you're a responsible driver doesn't mean you can avoid a serious car crash. A drunk driver, a motorist who fell asleep behind the wheel, or a distracted driver who was texting while driving can easily cause an auto accident.
The same is true for truck or motorcycle accidents. An auto accident can instantly change your life. If the accident wasn't your fault then you deserve compensation. That's where we can help. That's why you need Frekhtman & Associates on your side, standing up for your rights.
If you or anyone you know has been in a car accident, be sure to get in touch with us at (718) 331-3330, or email us at Contact@866attylaw.Com.
Even if the accident did not happen recently, you still have a chance. The state of New York's statute of limitations offers you 3 years, starting from the date of the accident, to file a lawsuit against those who caused you harm.
If you or a loved one was injured in an auto accident, contact the Queens auto accident lawyers at Frekhtman & Associates. Call us toll free at (866) ATTY LAW or locally at (212) 222-1111. Fill out the contact form on our website. We would be honored to provide a free consultation at our Queen's office.