Automobile Accident Lawyers Discuss Long Island Collision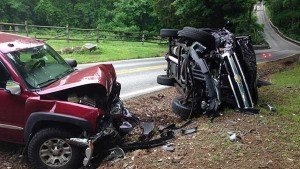 New York automobile accident lawyers discuss a Long Island car crash where one vehicle allegedly ran a red light. A crash occurred at approximately 9 p.m. on Sunday, April 3, at the intersection of Ocean Avenue and Lakeland Avenue in Ronkonkoma. A 23-year-old Bohemia man in a 2014 Chevrolet pickup truck was southbound on Ocean Avenue before the accident.
Motorist Allegedly Runs Red Light
A Suffolk County law enforcement official said witnesses reported that the pick up was traveling at excessive speed when it ran a red light and struck another pickup driven by a 67-year-old Medford man. He was reportedly attempting to make a left turn when the vehicles collided. His 66-year-old wife was also in the vehicle.
Emergency personnel transported the couple to the hospital, but they did not survive. Emergency personnel transported the 23-year-old man to Stony Brook University Hospital where he required surgery to treat his injuries.
Allegations of Drunk Driving
An officer that responded to the accident scene reported smelling alcohol on the man's breath. The motorist reportedly told the officer he had been drinking before the crash. Sunday night, officers arrested him on charges of driving while intoxicated. It is possible that additional charges will be forthcoming after prosecutors further review the case and results of a blood alcohol test. Newsday reported that the man had no previous criminal record.
When a person dies as the result of the negligent conduct of another person, surviving family members may file a wrongful death civil lawsuit. Such litigation often seeks compensation for loss of companionship, pain and suffering and burial expenses.
If you or a family member suffers injury or loss of life in a traffic accident, it is possible to review the details with automobile accident lawyers. Our firm will provide this consultation to you without cost or obligation. To learn more, please contact us.